An out-of-time watchmaking dream
Moorea has a strong, distinguished identity. It is a thoroughbred watch that its creator, Emile Pequignet, designed to be timeless in 1984. He named this iconic model after his stallion, Moorea, and endowed it with a timeless signature link. Wearing a Moorea watch means being part of a renowned community, that of lovers of meticulously crafted and subtly sophisticated timepieces. With Pequignet's iconic Moorea collection, you can take it easy without taking yourself seriously.
Iconic showcases
Worn for four decades, the Moorea is now available in three emblematic models: the Moorea Origine, for those in tune with their times, the Moorea Trocadéro for refined, bold women and the Moorea Hossegor, a quintessential sportswatch for men. Nearly thirty variations are possible, distilling hours, minutes and seconds to the rhythm of a quartz or an automatic movement, with or without a chronograph. With a diameter of 29 to 43 mm depending on the model, Moorea watches display a Clou de Paris pattern and a lily, Pequignet's symbol, on the caseback. Ardillon or folding buckle, LumiNova® hands or date aperture, the possibilities are endless when it comes to creating a showcase to display the passage of time.
A multifaceted aesthetic
The Moorea is embodied by its signature bracelet. Intertwining its rounded links in one, two or three rows, the Moorea bracelet has always been an inseparable part of Pequignet's identity. Breaking the codes of traditional Haute Horlogerie when it was created, it has since undergone changes but retains its initial characteristic: links connected by elegant metal grains. The power of steel, the richness of gold, the delicacy of mother-of-pearl, the strength of titanium, the sparkle of diamonds… with the Moorea watch collection, Emile Pequignet was one of the first to dare to combine noble with raw materials.
On the Trocadéro model, two vertical side bars harmoniously embrace the case, giving it a Parisian flair, with or without a stone setting.
The Hossegor boldly opts for full black on the case, the dial as well as the strap.
Saddle-stitched leather, coloured trim, dial with stamped decoration, stud or diamond hour indicators, the Moorea Origine spoils us with choices that allow us to stand out, without excess.


For people who are worth waiting for.


For people who are worth waiting for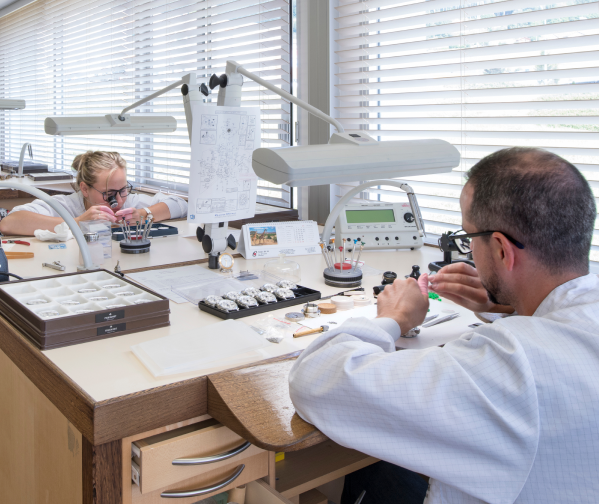 Pequignet is the quest for perfection and watchmaking expertise.
For the past fifty years, the firm has mastered and enhanced the skilled manufacture of its timepieces, without compromising on the beauty and the singularity of its creations.
Guided by the harmony of silence and a love for technique, our ingeneers design and create movements and exceptional watches, that are assembling and making reliable by our watchmakers. Apart from its know-how the House of Pequignet embodies the essence of Haute Horlogerie in the French manner.