More than an exceptional watch, here is a new attitude.
The Attitude embodies watchmaking excellence, a timeless line driven by the latest movement designed and assembled at Manufacture Pequignet, the Calibre Initial. The symbol of the French carefree attitude over which time has no hold, the Attitude is made for curious minds, discreet enthusiasts and lovers of slow time.
A Made in France calibre
The Attitude, with its clean lines, hides behind its apparent simplicity, an innovative mechanism derived from Jura watchmaking know-how: the Calibre Initial. Featuring a patented semi-instant date system, the latest Pequignet's movements almost entirely consists of components manufactured in France (72% are made in France, the rest are supplied in Switzerland, less than 80 km from the workshops in Morteau). With their 65-hour power reserve, Attitude watches will give you time to appreciate the swing of their openwork oscillating weight decorated with a lily, Pequignet's emblem.
A characterful aesthetic
Round steel case and saddle-stitched leather strap, in reality, when they turn their backs on us Attitude watches show their true character, thanks to a screwed caseback fitted with a sapphire crystal that reveals the movement. Opaline white or anthracite grey, with or without a sunburst, the dial catches our eye with the infinite movement of its hands. For a moment, time seems to stand still.
Give yourself time but don't run after it.
Give yourself time but don't run after it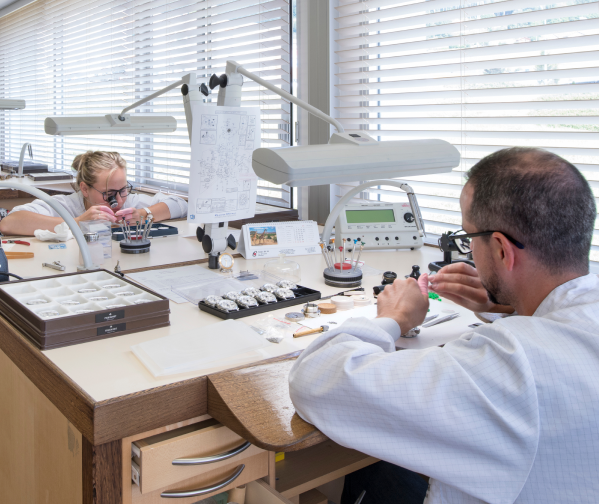 Pequignet is the quest for perfection and watchmaking expertise.
For the past fifty years, the firm has mastered and enhanced the skilled manufacture of its timepieces, without compromising on the beauty and the singularity of its creations.
Guided by the harmony of silence and a love for technique, our ingeneers design and create movements and exceptional watches, that are assembling and making reliable by our watchmakers. Apart from its know-how the House of Pequignet embodies the essence of Haute Horlogerie in the French manner.