Concorde, new signature Collection
To celebrate its 50th anniversary, PEQUIGNET, the only French haute horlogerie manufacture, draws on the best of its history to present Concorde, a new signature collection.
With a new signature link with an obelisk shape, its steel strap and its in-house movemet, Concorde is a
combination of a proven know-how and an accepted design. Watches worn for people who wants to distinguish without standing out.
Concorde : Celebrating a half-century of watchmaking
Powered by the Calibre Initial™, the latest movement designed and assembled by the Manufacture in France, Concorde is in line with the continuity calling on French watchmaking in-house talents. Its prestigious movement with two-way winding system provides a 65-hour "weekend proof" power reserve, spanning the entire weekend.  Concorde also has a date aperture with a semi-instant display driven by a patented complication of its Calibre Initial™. The Calibre Initial™ meets PEQUIGNET's sustainability requirement: all of its components are sourced within 80 km of the factory; 72% are French.
A new signature link, inspired by the iconic Moorea, has been developed exclusively for Concorde. Its spearhead links are a subtle reference to the obelisk of the famous Parisian square after which Concorde is named. PEQUIGNET is renewing its DNA by creating a new bracelet designed by its French designer engineers 39 years after the Moorea launched in 1984.
With Concorde, you have time and you can take it.
Concorde watches are for everyday life, watches following our rhythm instead of imposing theirs, comfortable and
refined watches offering us the possibility to live the present time very casually. The steel case morphs three-dimensionally from square to circle, harmoniously balancing the triangular lugs of the bracelet to give body to a watch with soft geometric shapes. Available in two 40 mm or 36 mm cases, Concorde adapts to all wrists. Its round dial is available in 6 colours : gold, silver, imperial green, navy blue, anthracite grey and pink (only available in 36 mm).
With Concorde, you have time and you can take it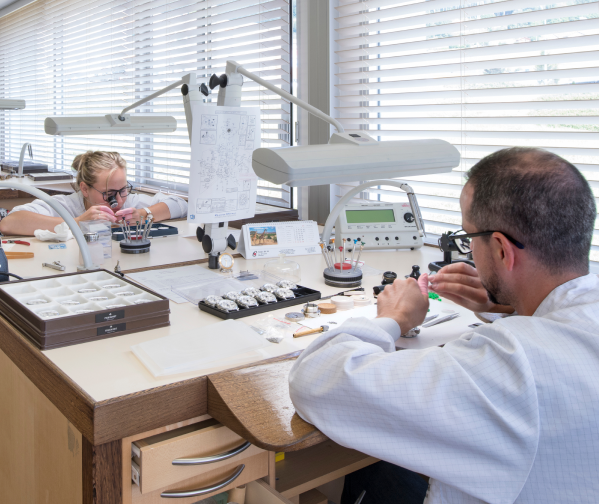 Pequignet is the quest of perfection and watchmaking expertise.
For the past fifty years, the firm has mastered and enhanced the skilled manufacture of its timepieces, without compromising on the beauty and the singularity of its creations.

Guided by the harmony of silence and a love for technique, our ingeneers design and create movements and exceptional watches, that are assembling and making reliable by our watchmakers. Apart from its know-how the House of Pequignet embodies the essence of Haute Horlogerie in the French manner.