Equus, the spirit of horses
Directly inspired by Emile Pequignet's passion for horses, Equus watches are the watchmaker's tribute to "the noblest conquest of Man". These watches can be tamed and worn with ease. Wearing an Equus watch is like strolling through a life lived at breakneck pace, without ever having to make up for lost time.
Running after time with the Equus Origine
The Equus Origine collection gets to the heart of the matter. Its feminine version is stripped of hour indicators and displays, in a limited size of 30 or 38mm, hours, minutes and small seconds to the rhythm of a quartz movement. The men's watch, depending on the version, features a double date aperture and a day retrograde counter powered by a Swiss automatic movement or Sellita SW2000. Two versions of regulator, direct references to the watchmaking tradition, enrich the men's line and offer a precise and original reading of passing time.


A sleek profile and two thin steel horns that support a saddle-stitched leather strap are what make Equus Origine watches, a nod to riding tackle. On white, black, blue or silvered dials, with or without a sunburst, the Roman numerals of the men's model mark the hour indicators On the women's model, the rounded lines of the case and the silvered colour of the dial mark the harmony of an understated watch imbued with history and personality.

One watch and several styles with the Equus Attelage
The Equus Attelage was designed for today's women, those whose busy schedule needs to be precise and controlled. With a Swiss quartz movement, these watches with a small case display the hour and minutes on understated indicators; sometimes studded with diamonds.
The patented stirrup-shaped bracket is equipped with a rotating clip for quick and tool-free changing of the bracelet. In saddle-stitched leather, varnish or Milanese mesh, Attelage bracelets are interchangeable and available in more than 24 colours. In rose or yellow gold, steel, set or not with stones, the rectangular cases of the Equus Attelage watch have mother-of-pearl dials engraved with the lily, the Pequignet emblem.
Through this clear change of style, Equus timepieces offer to take us on a watchmaking getaway.


Because wasting time is never wasted time.

Because wasting time is never wasted time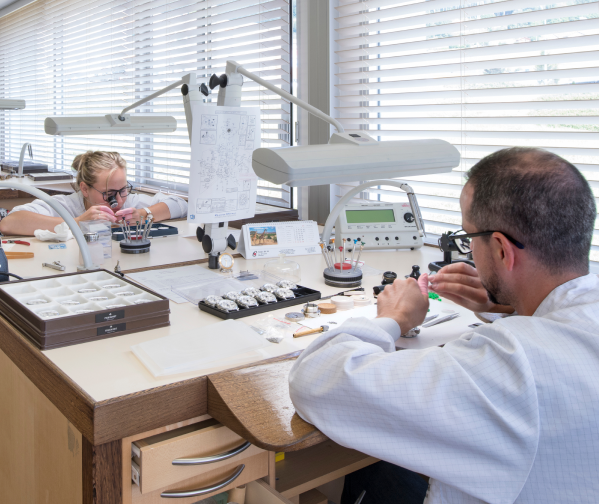 Pequignet is the quest for perfection and watchmaking expertise.
For the past fifty years, the firm has mastered and enhanced the skilled manufacture of its timepieces, without compromising on the beauty and the singularity of its creations.
Guided by the harmony of silence and a love for technique, our ingeneers design and create movements and exceptional watches, that are assembling and making reliable by our watchmakers. Apart from its know-how the House of Pequignet embodies the essence of Haute Horlogerie in the French manner.