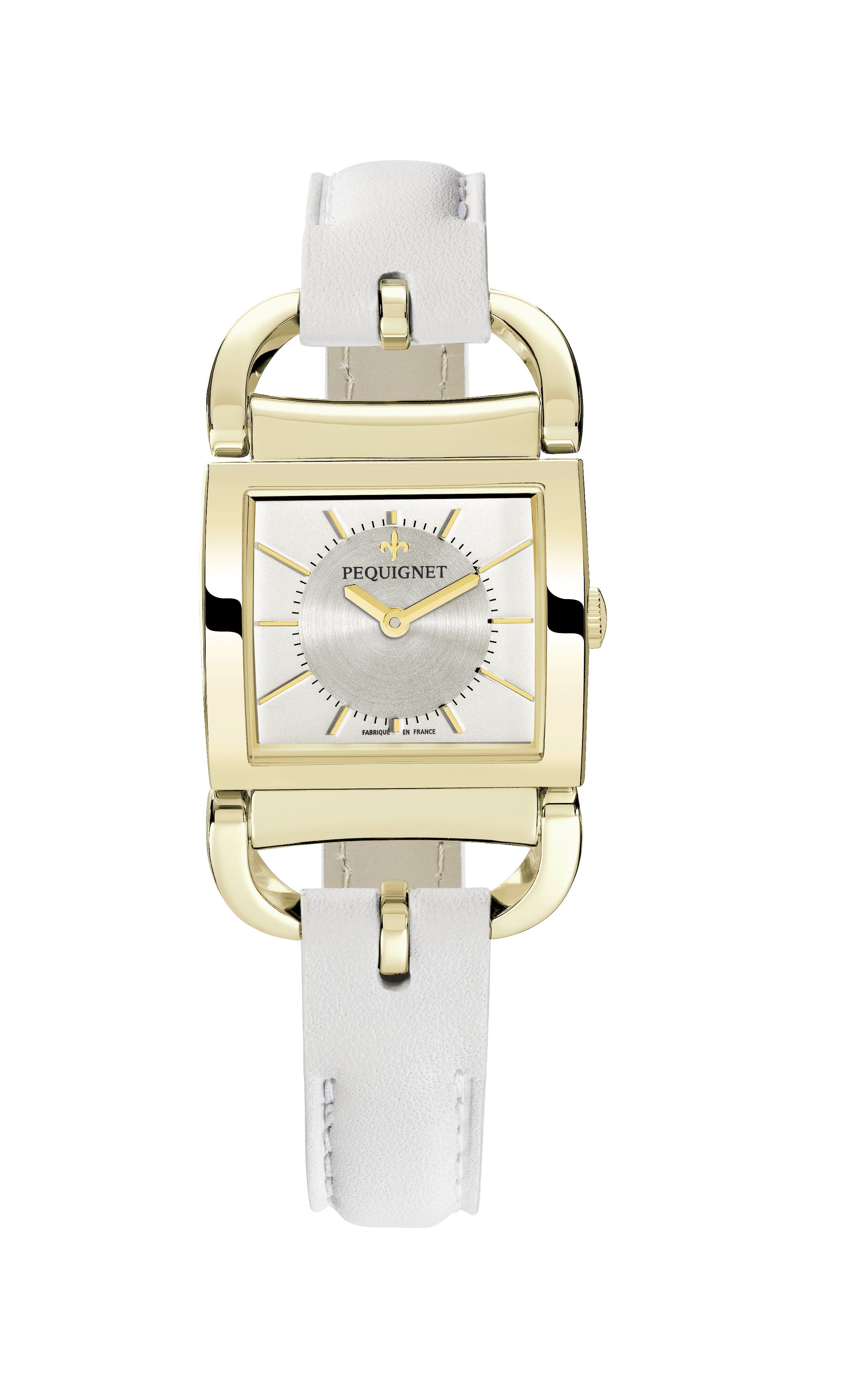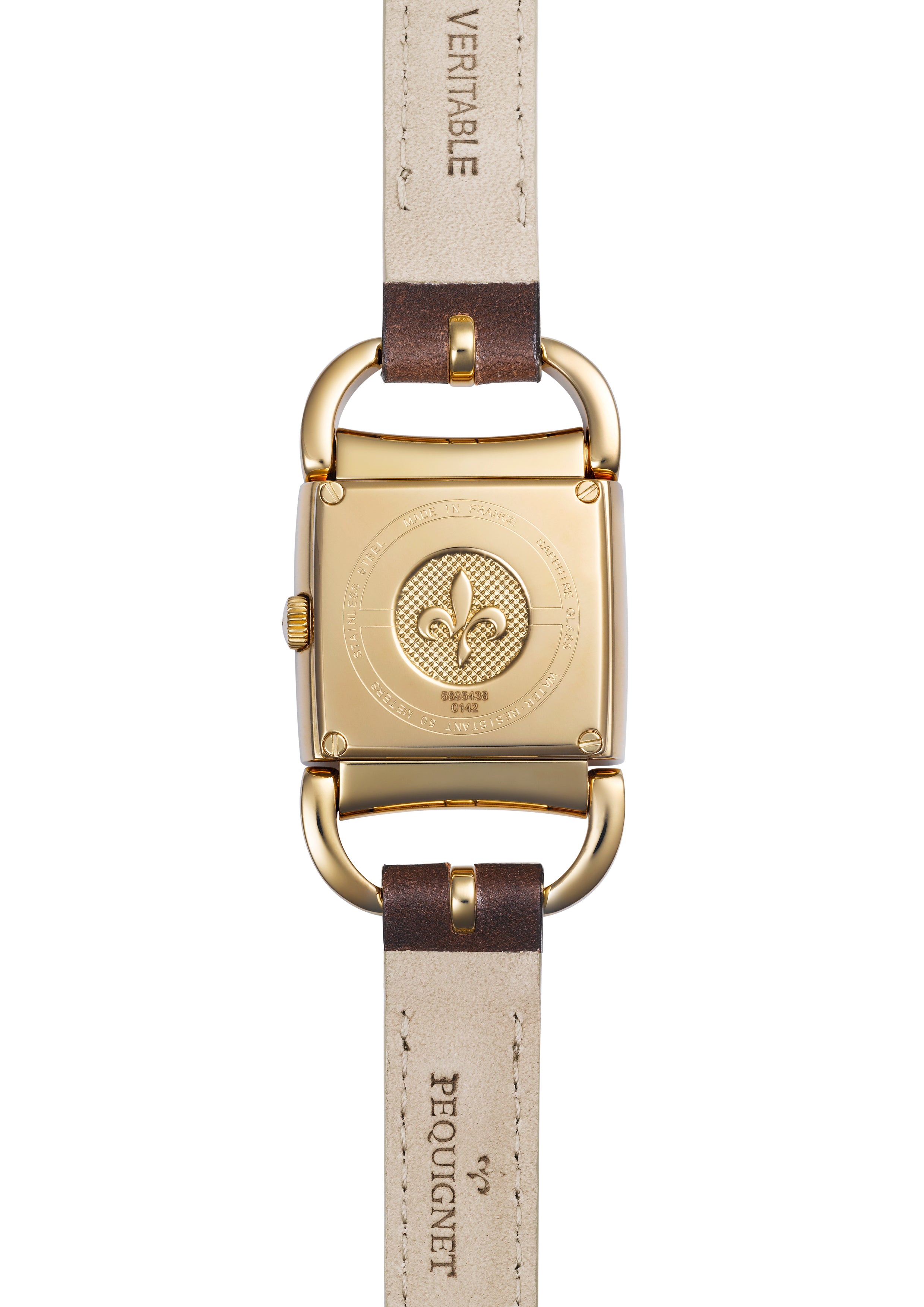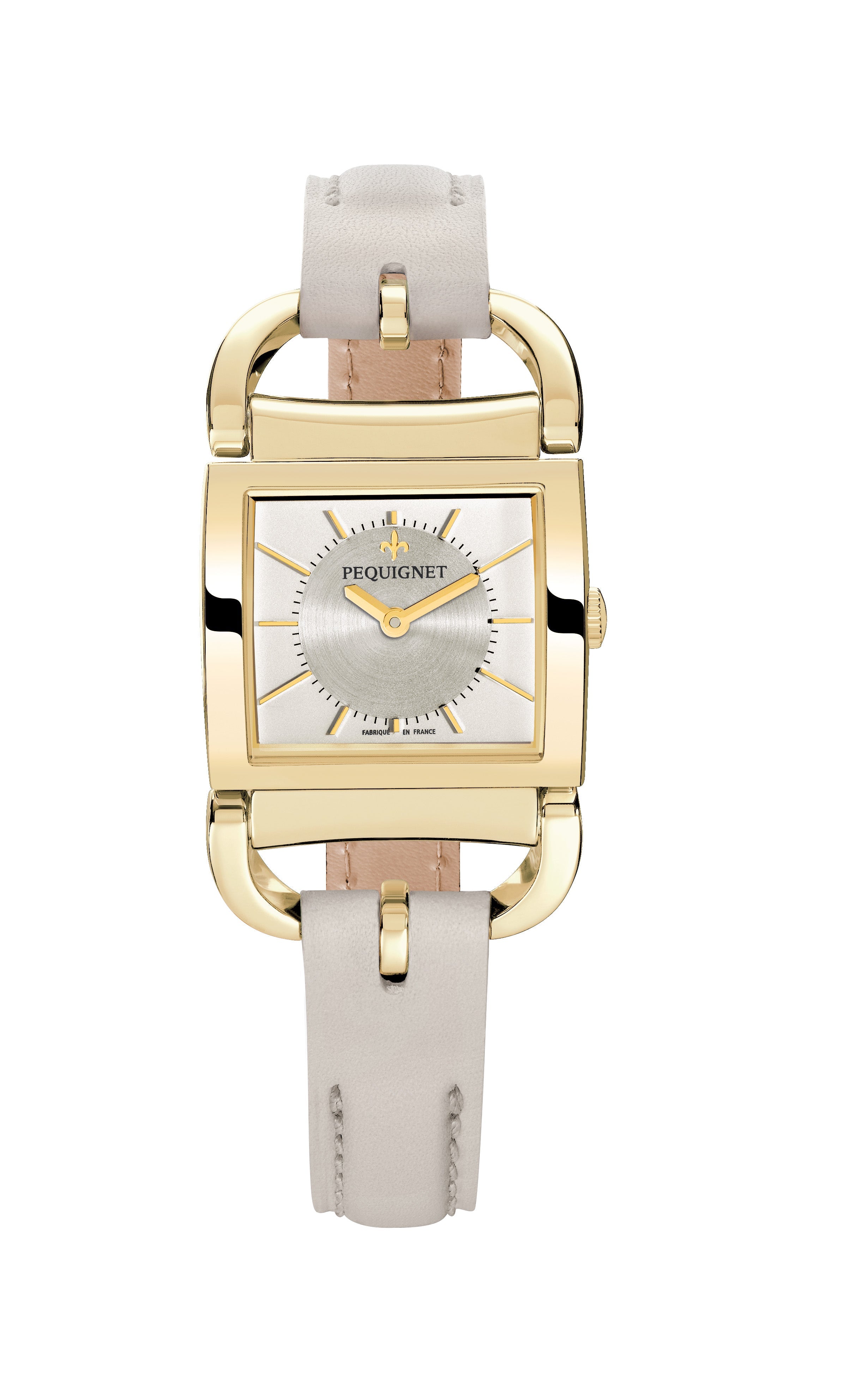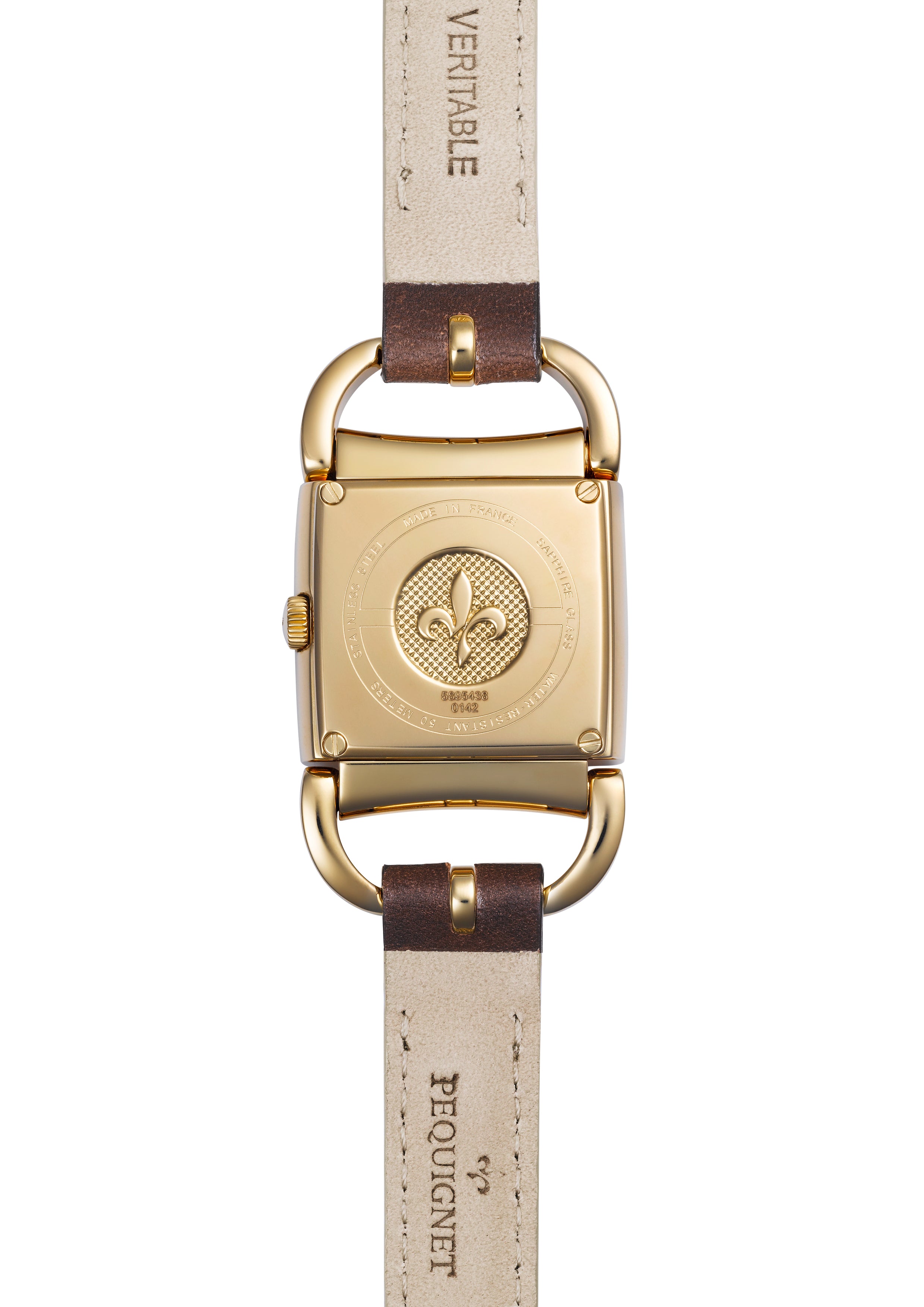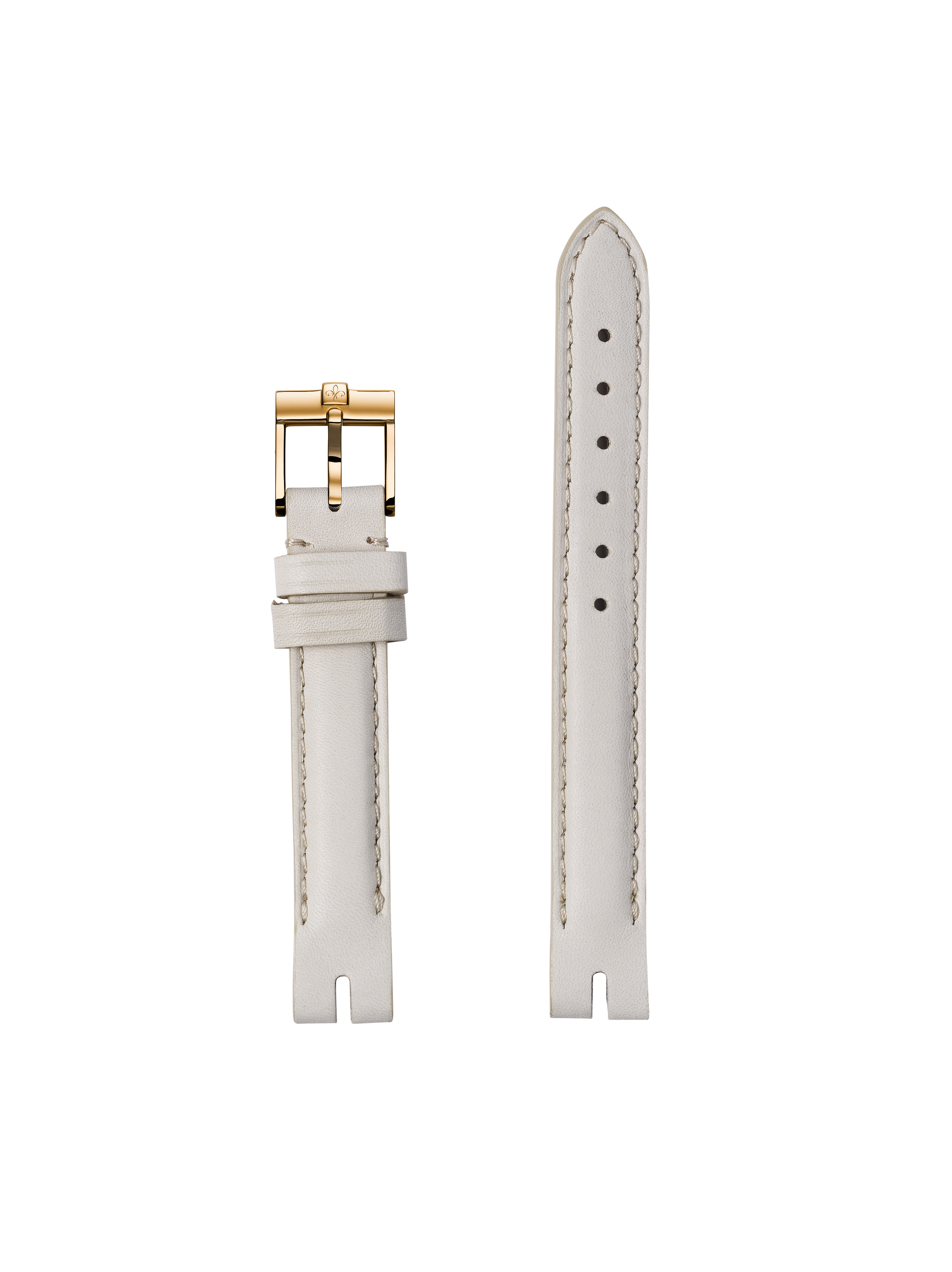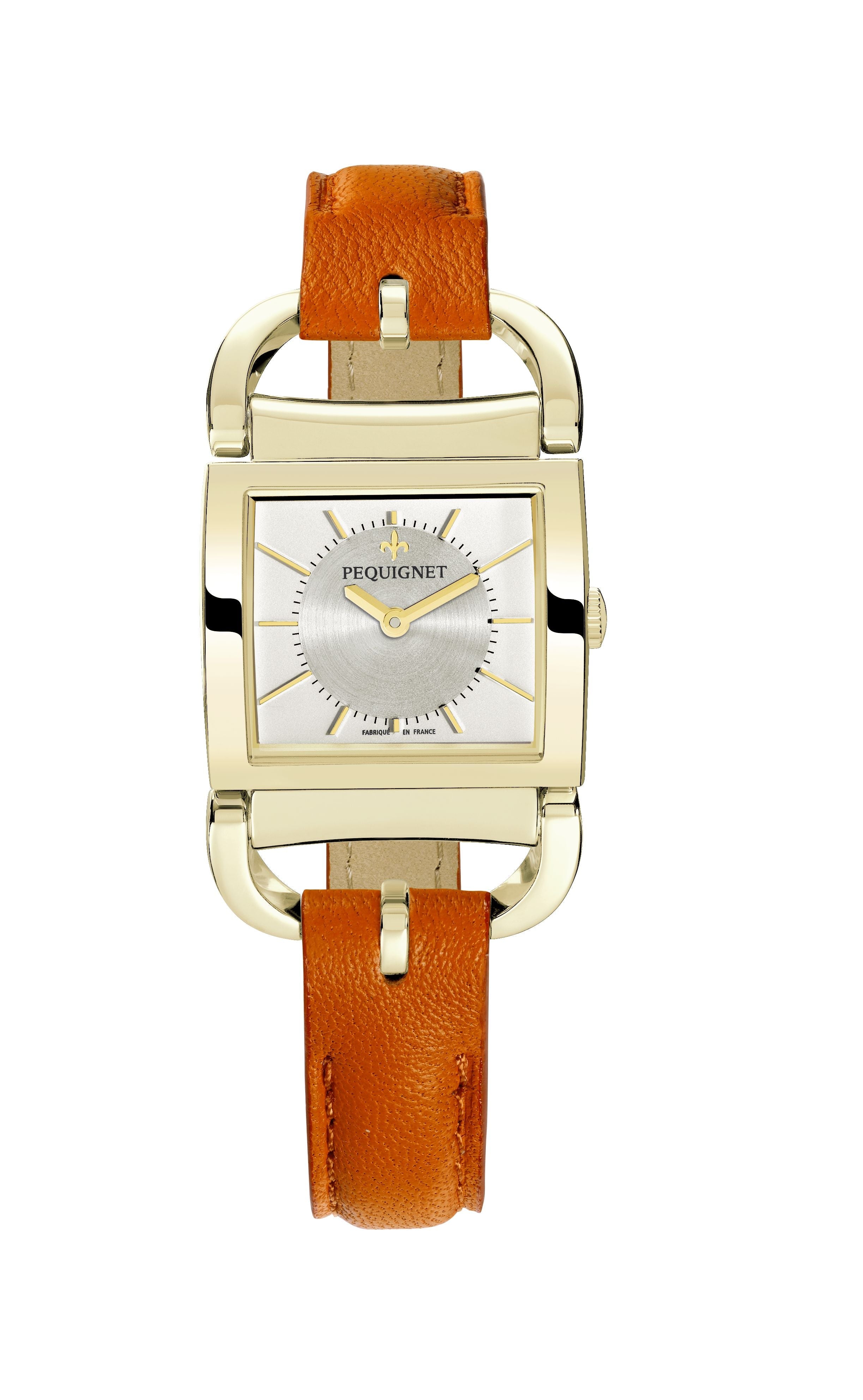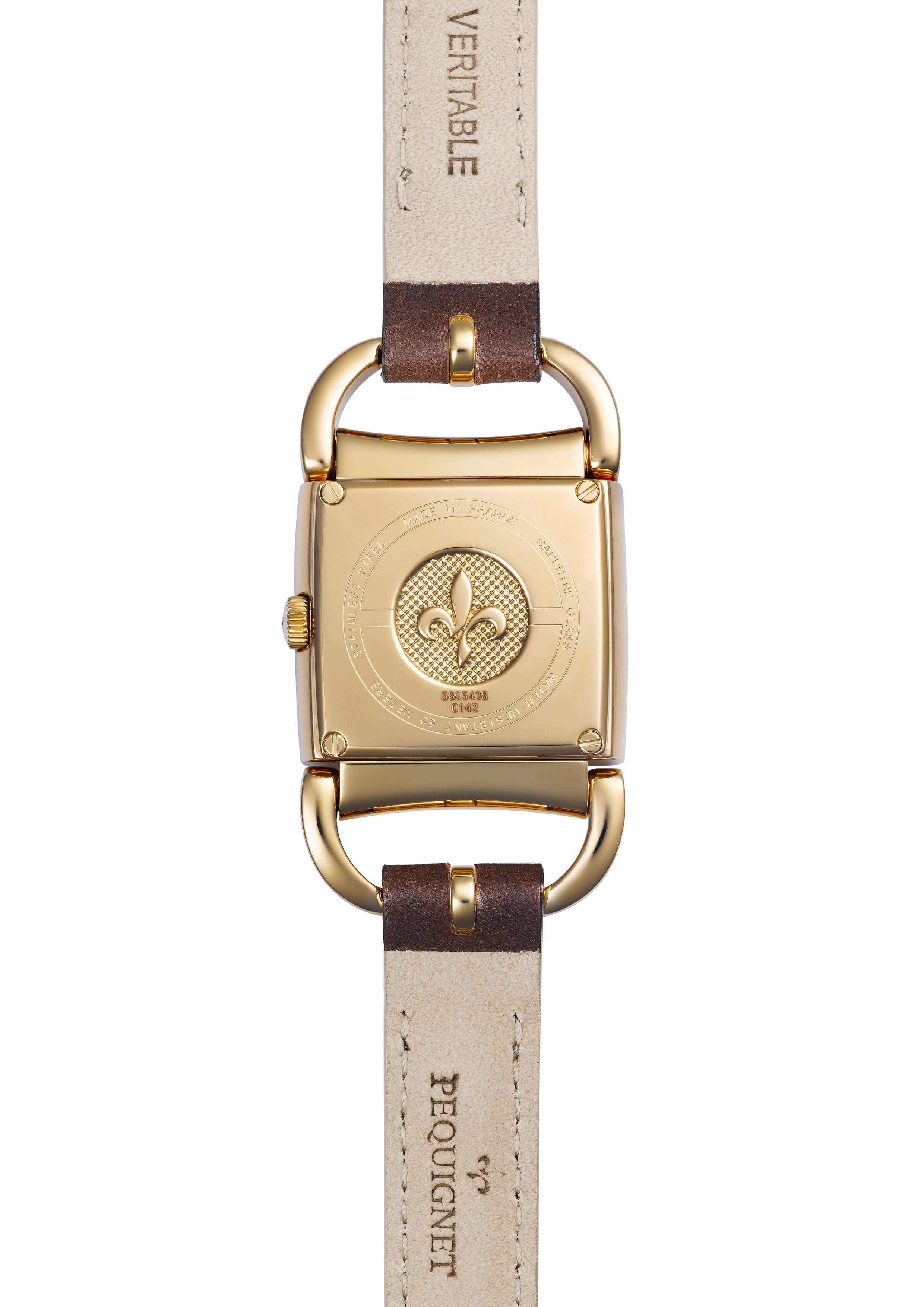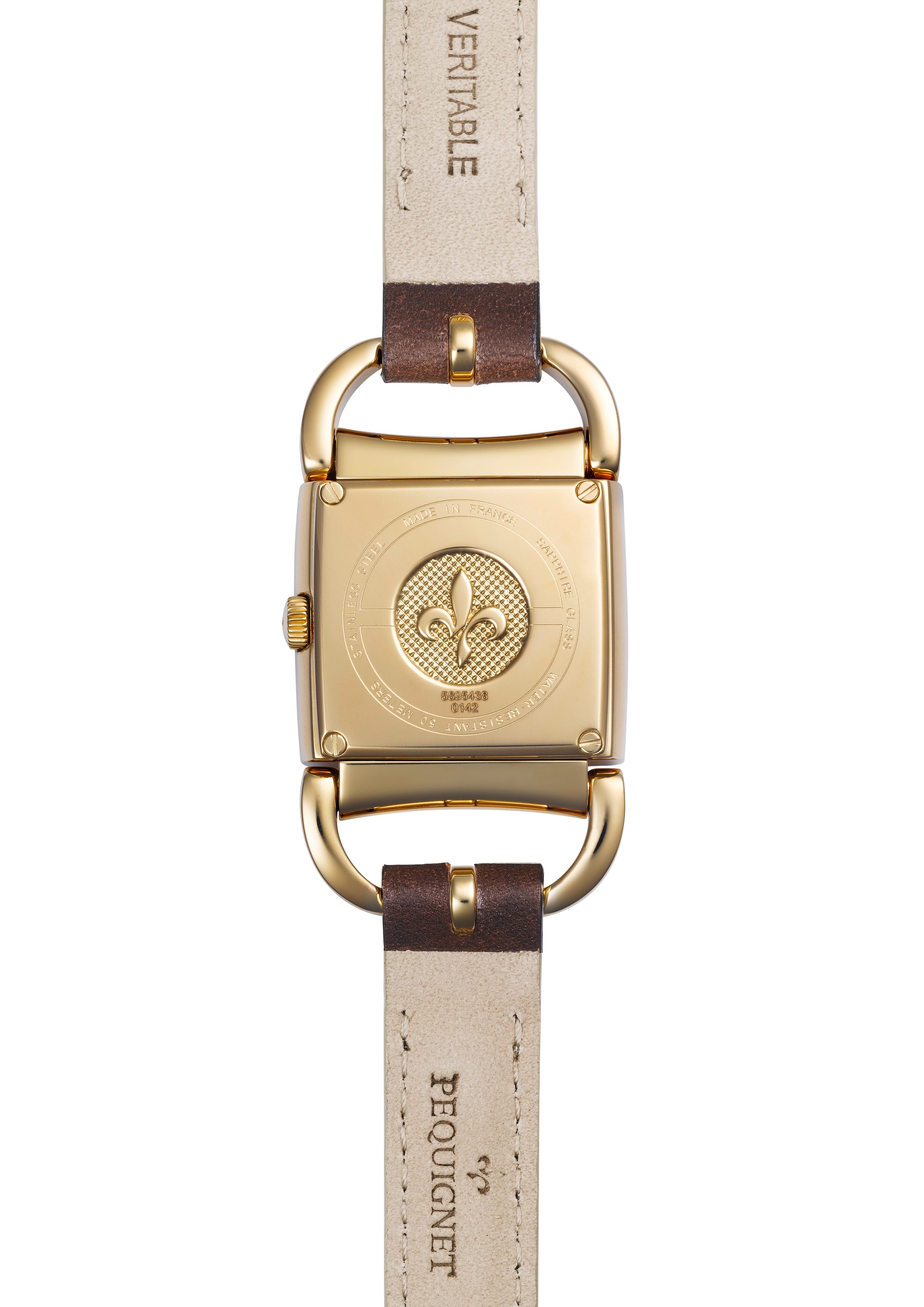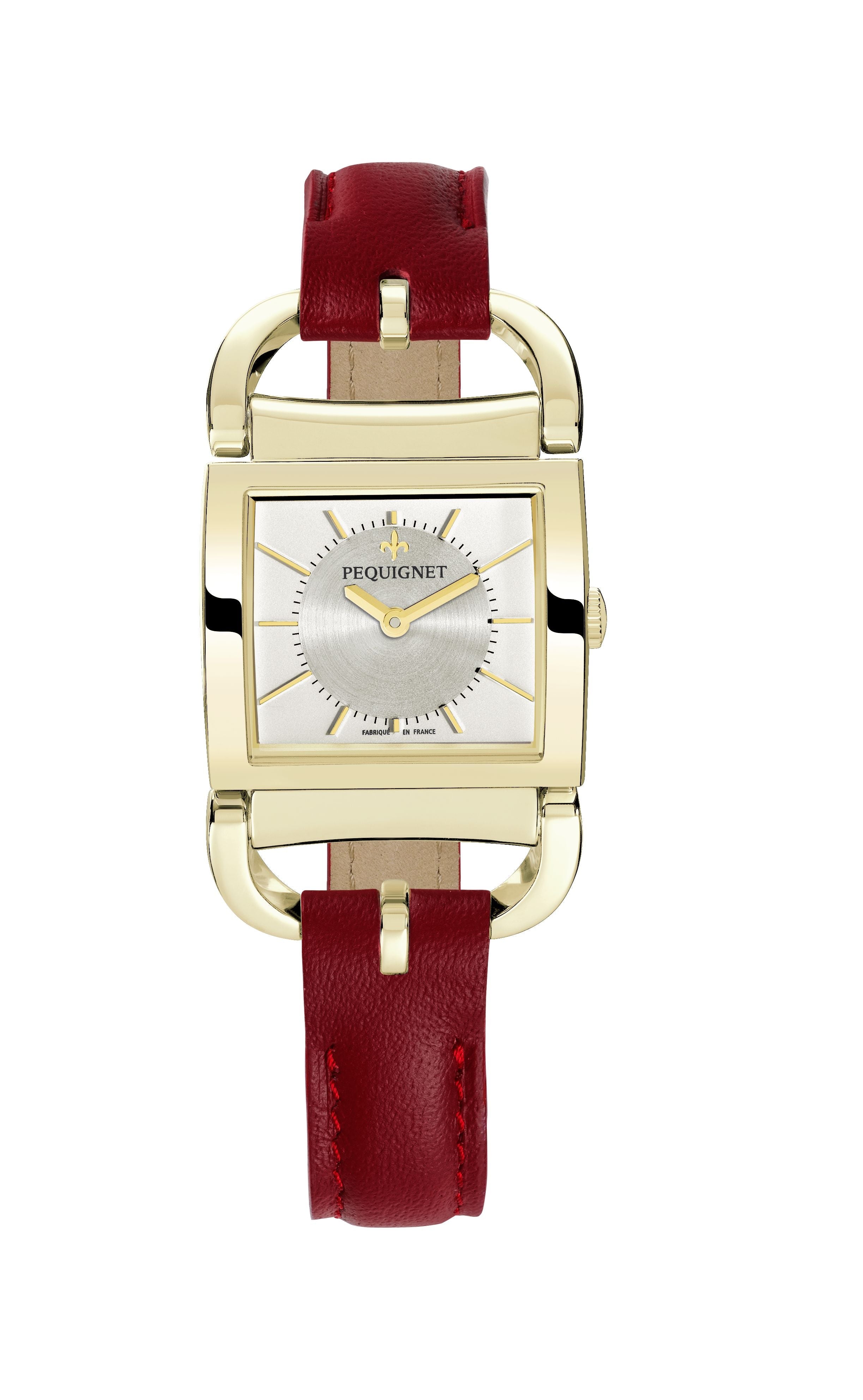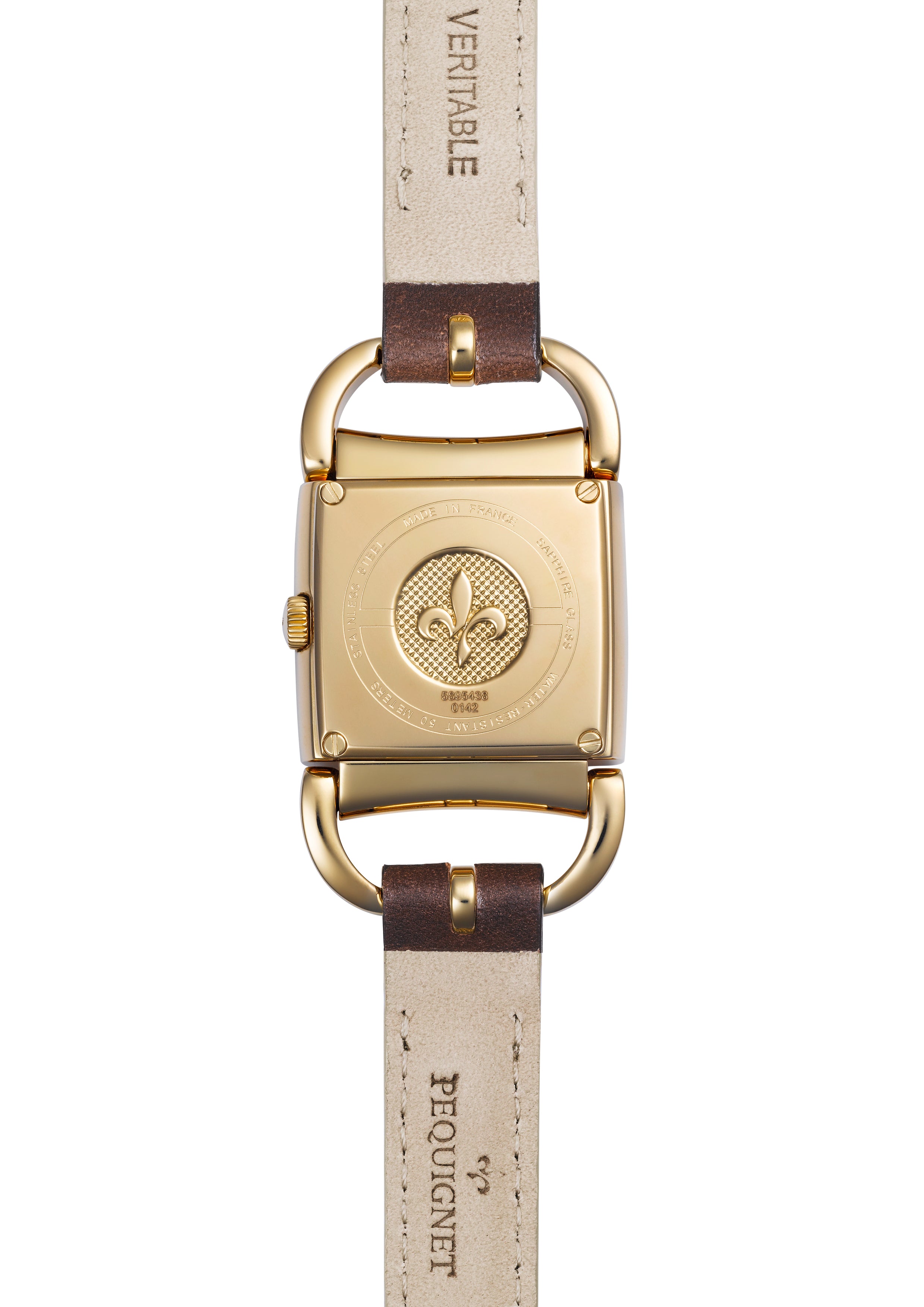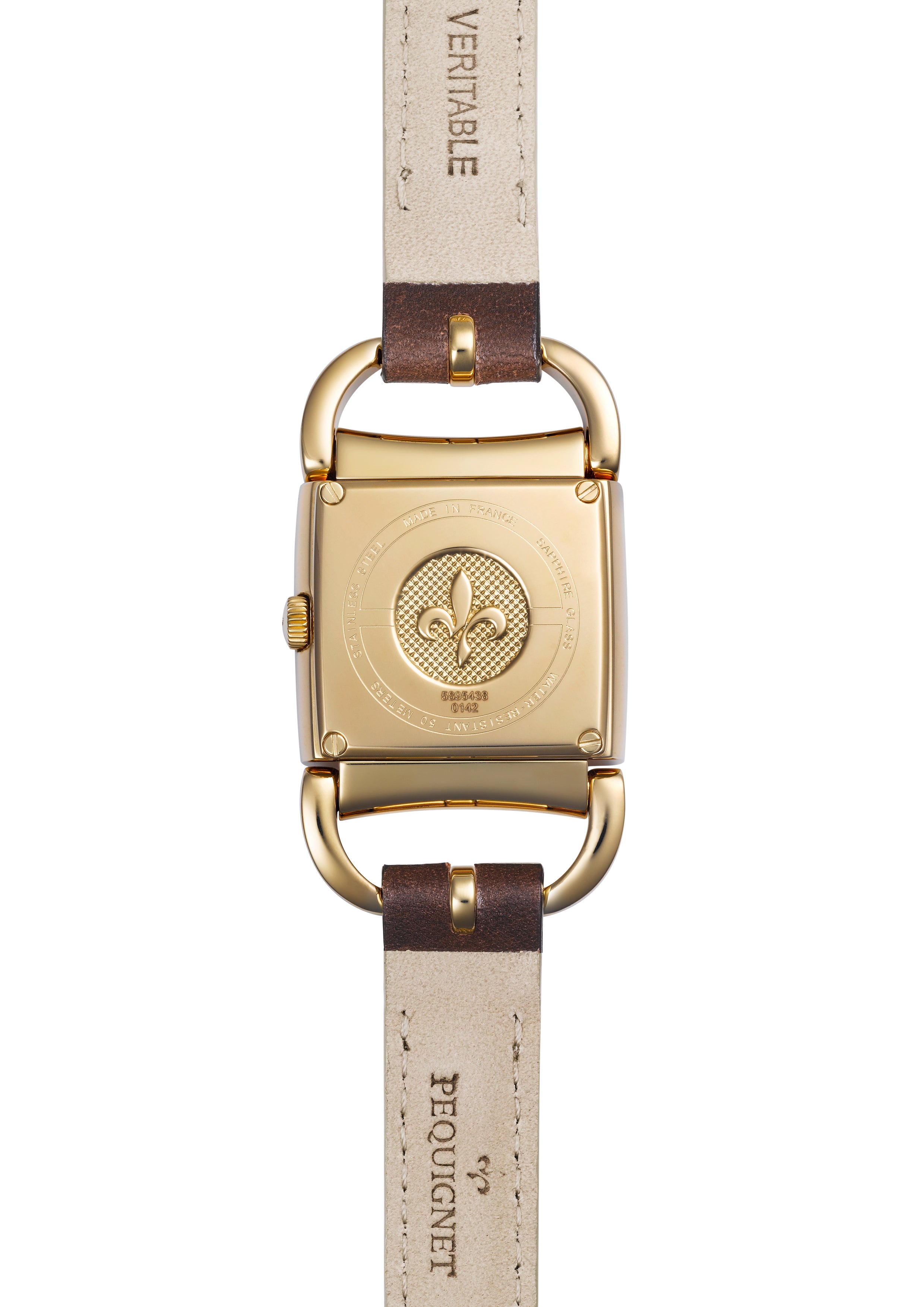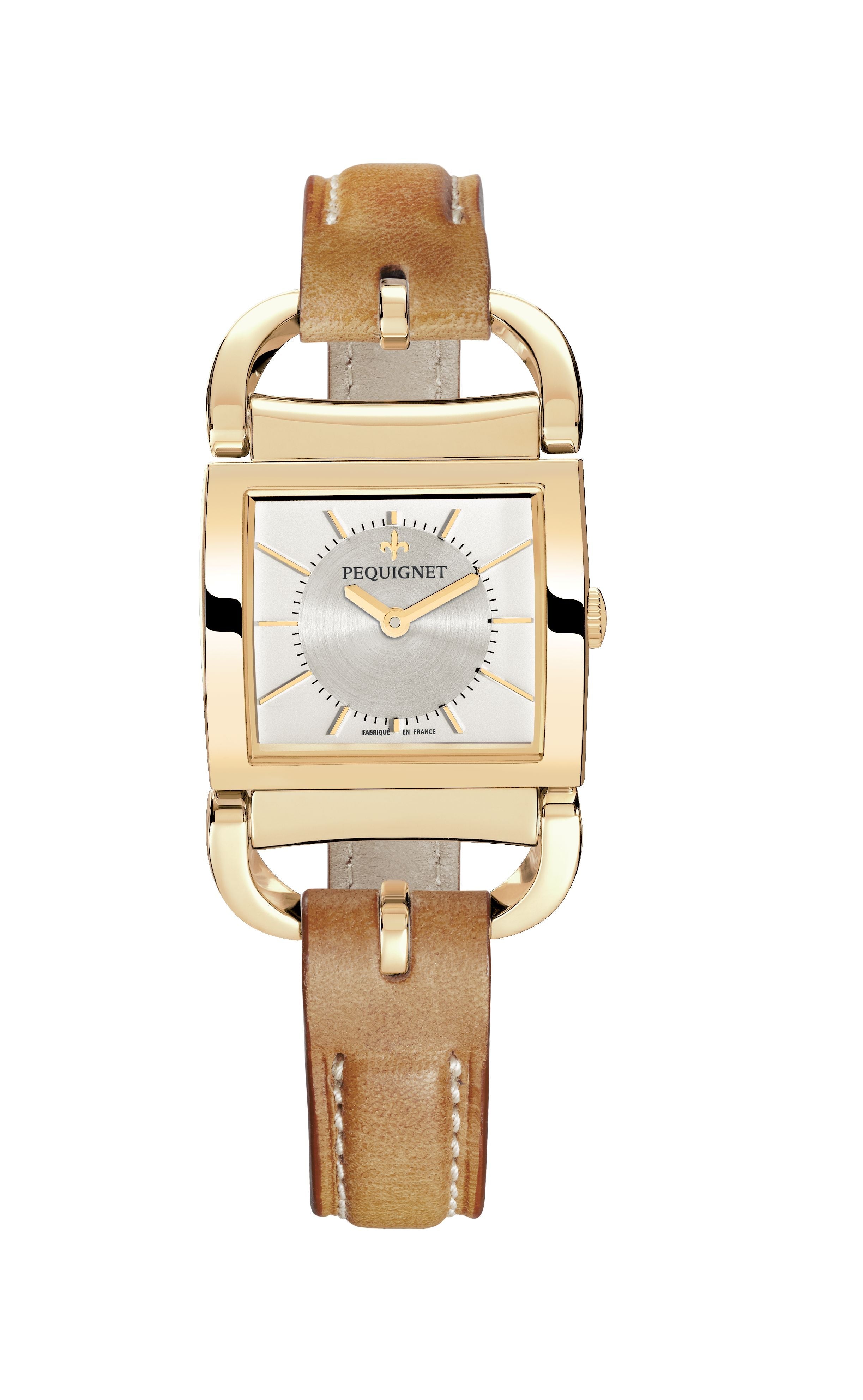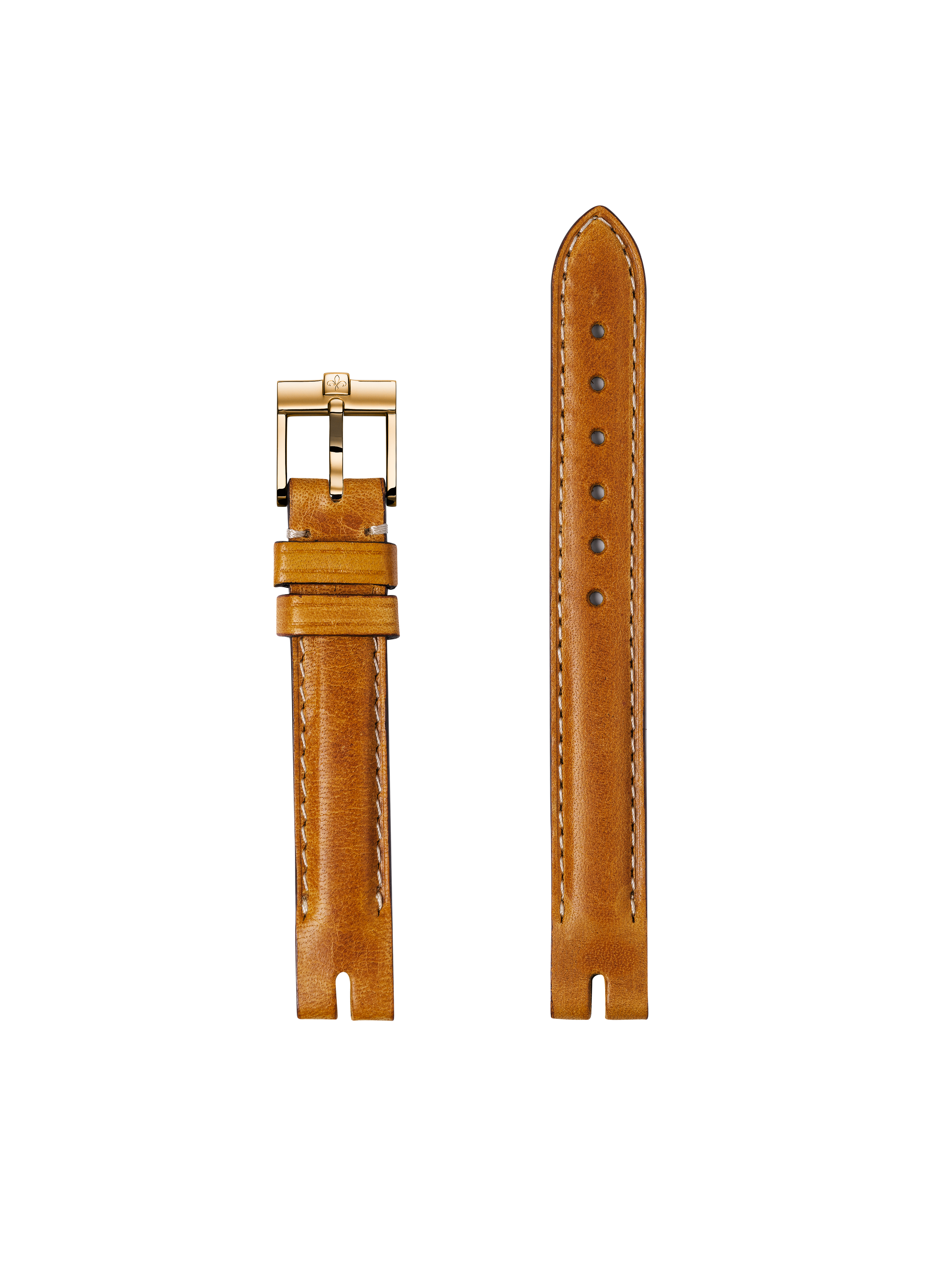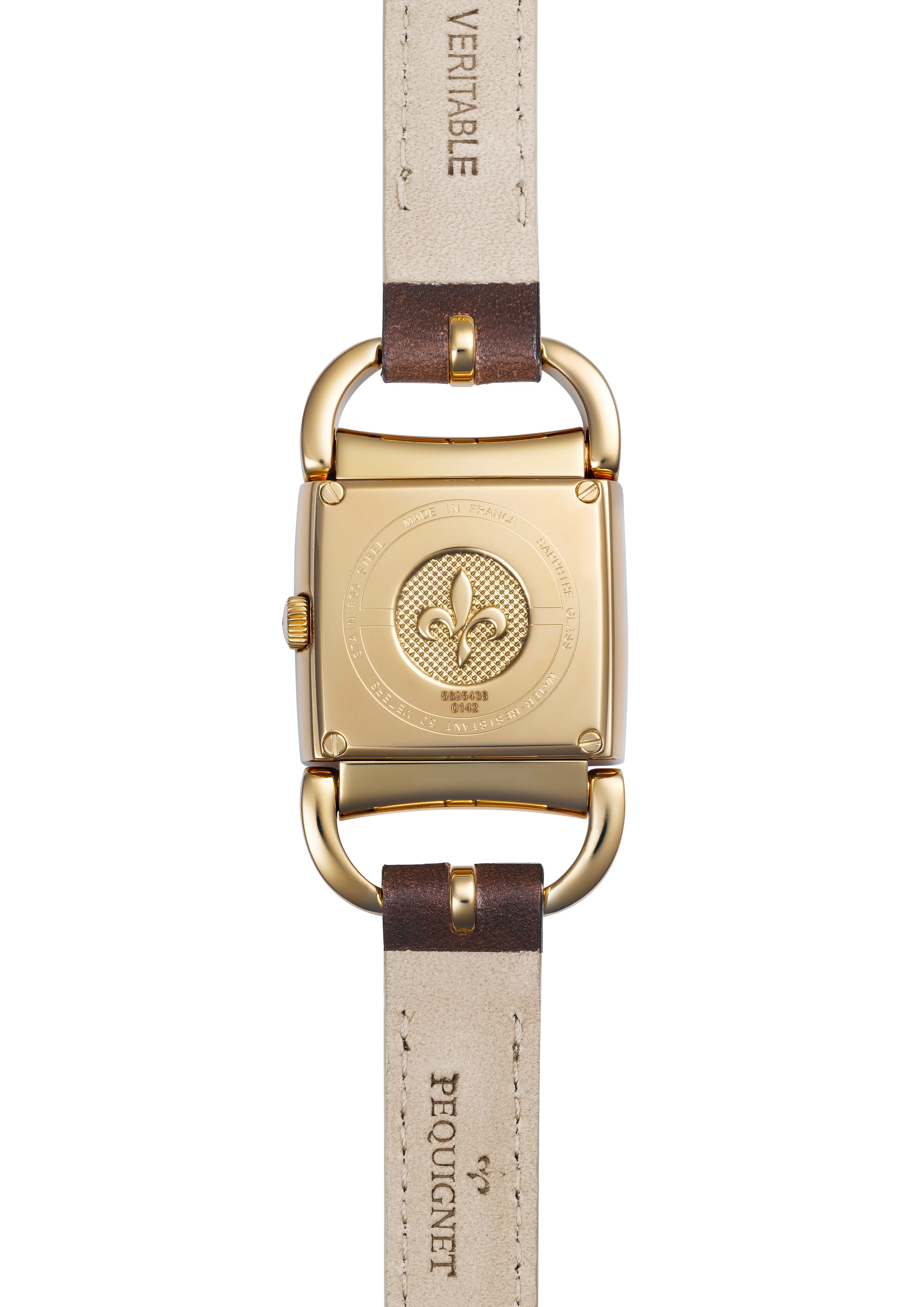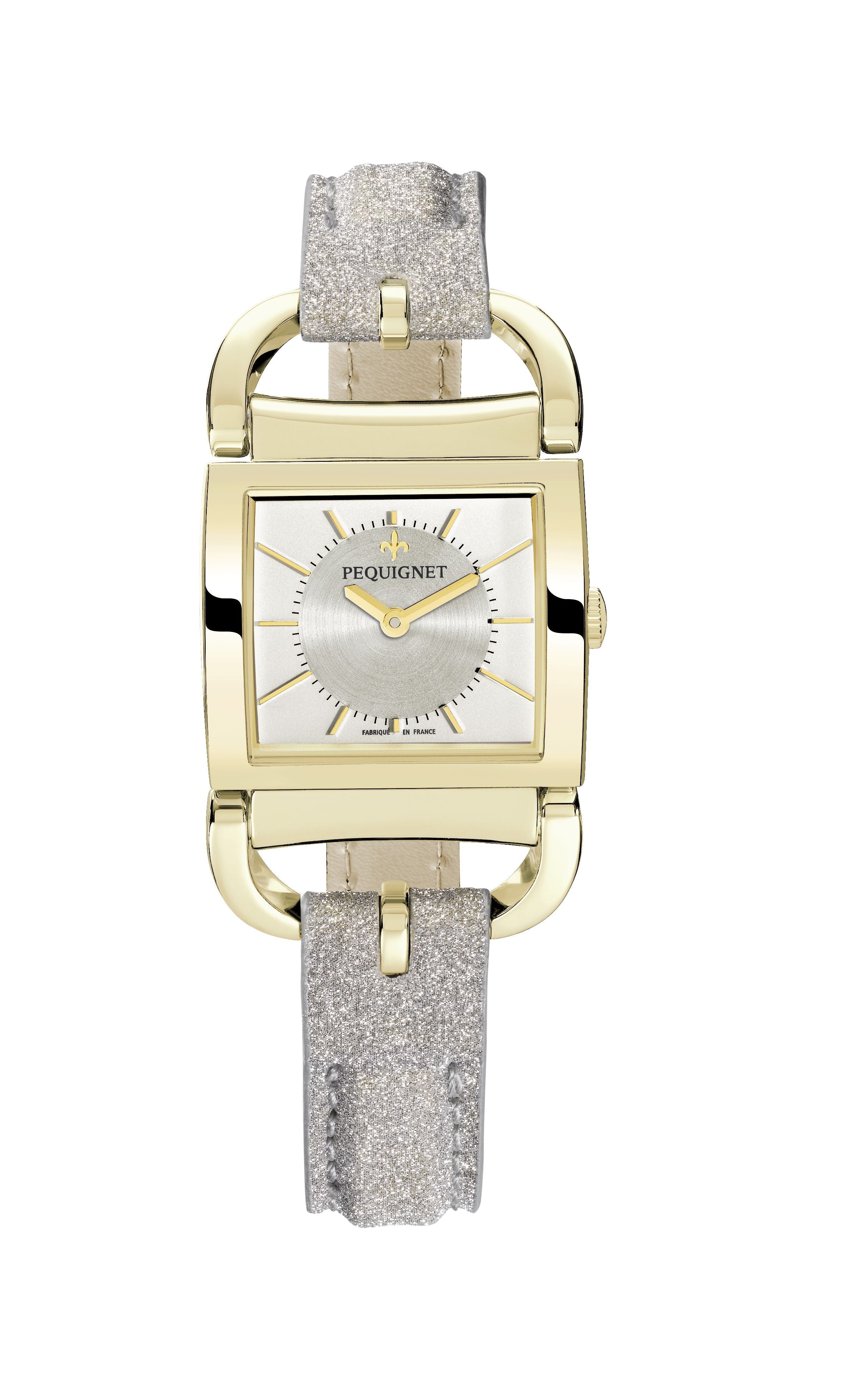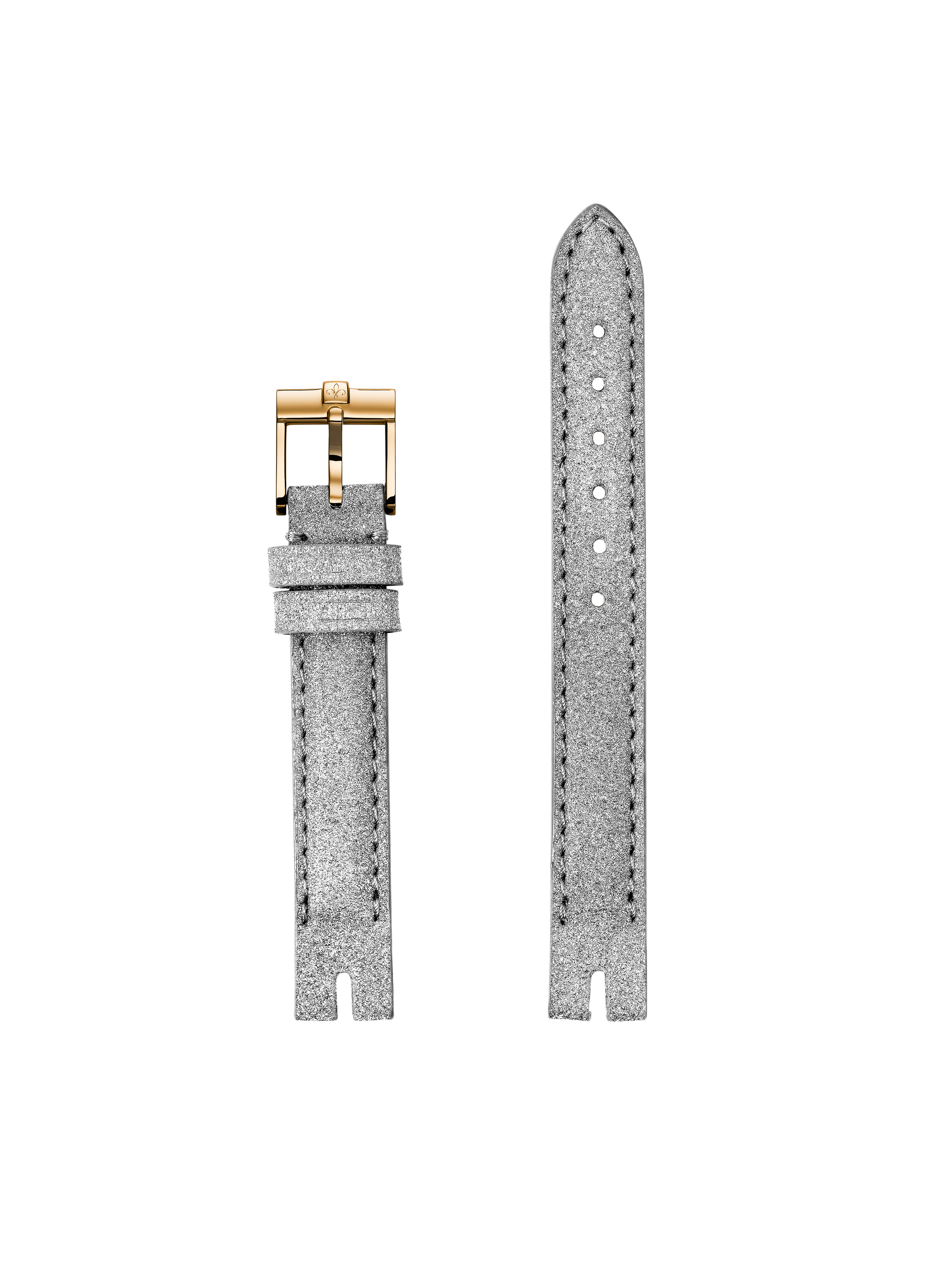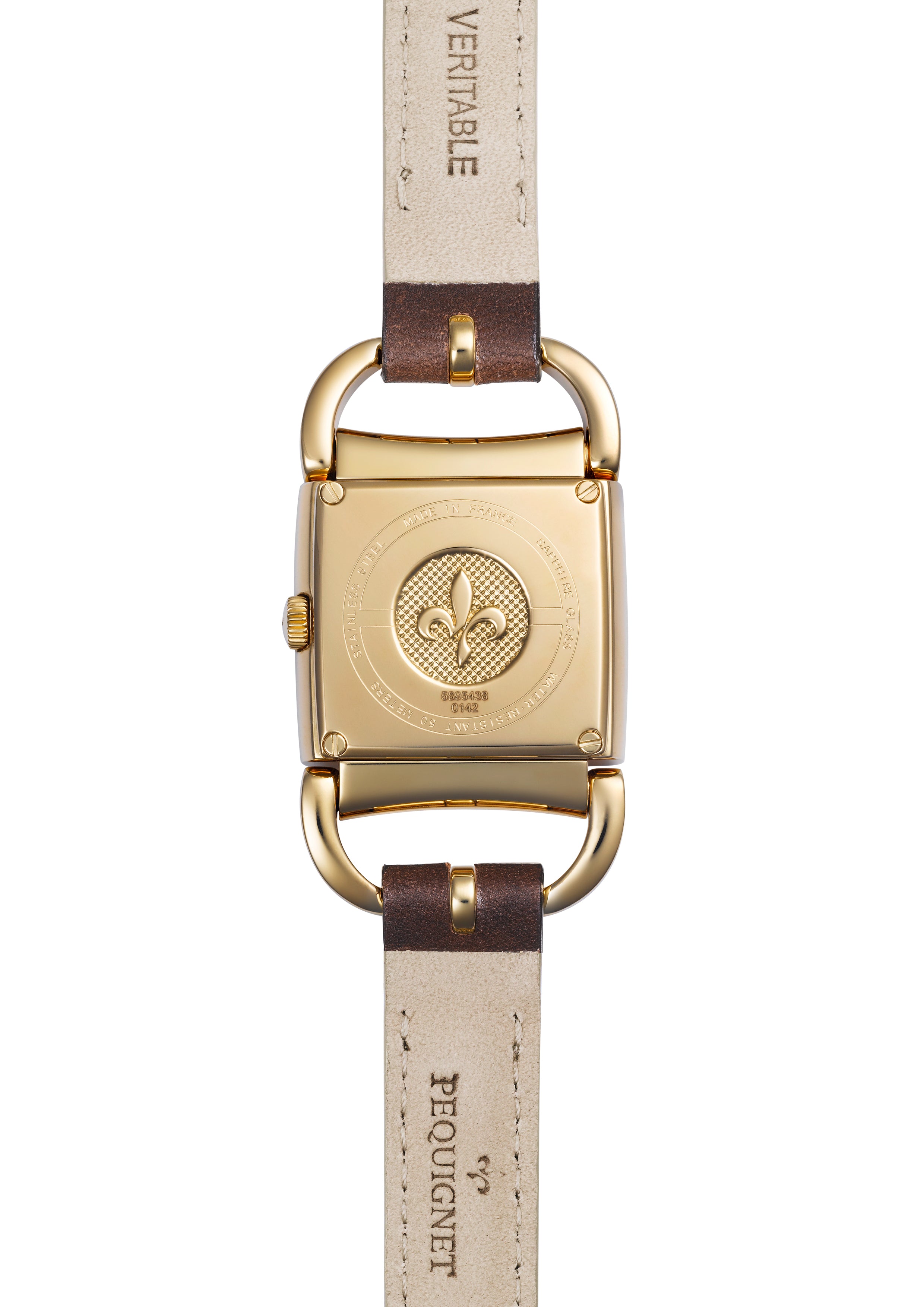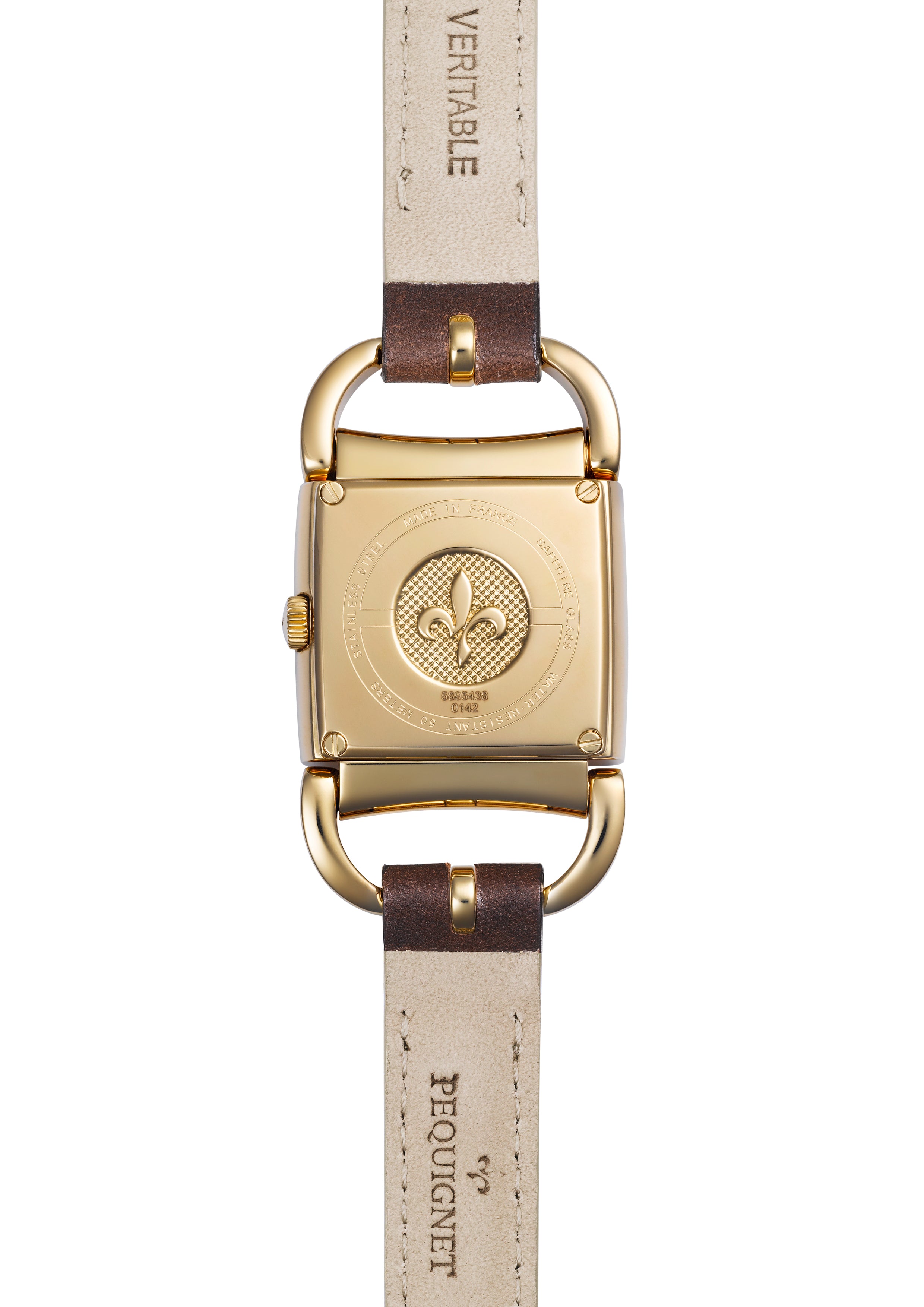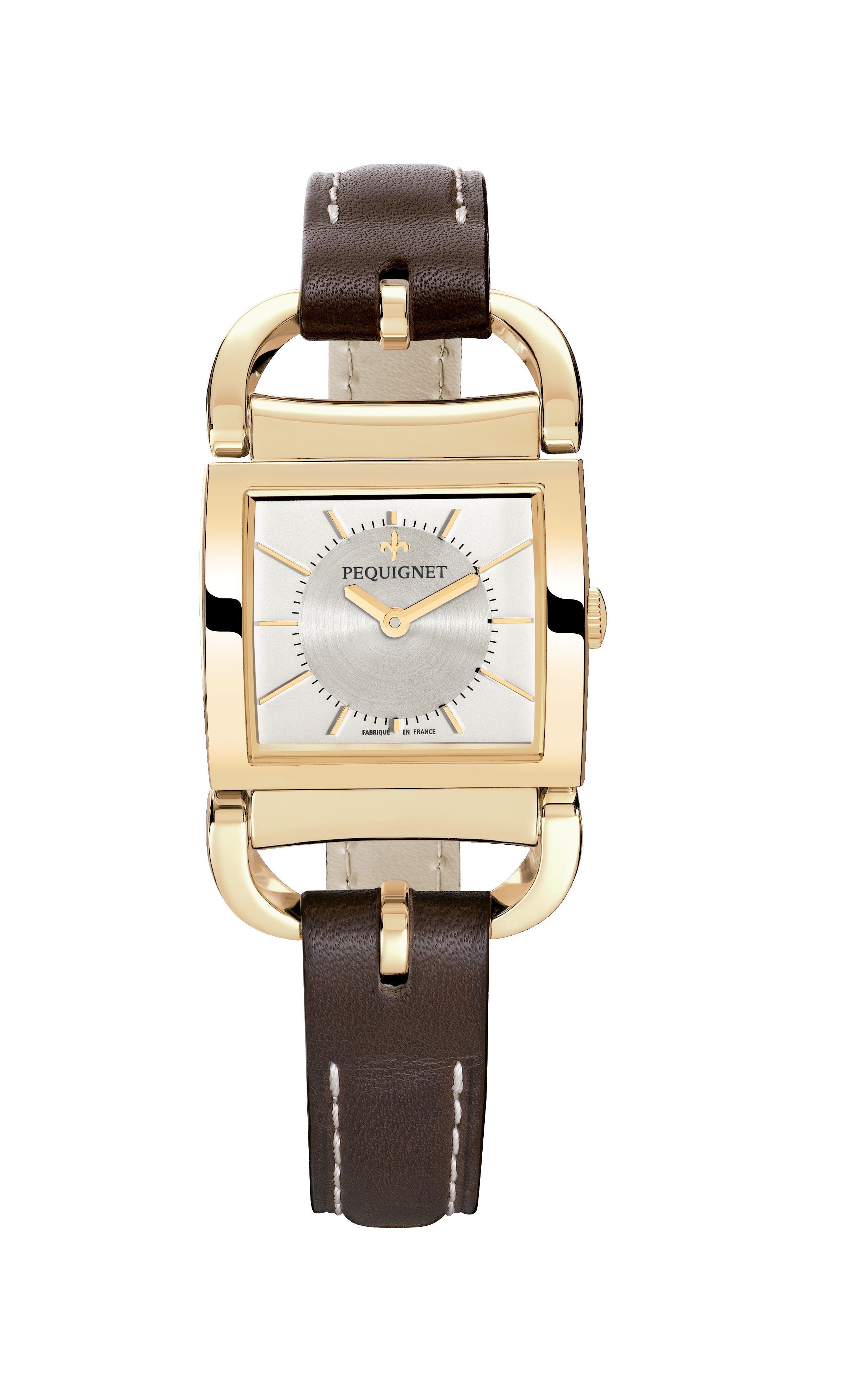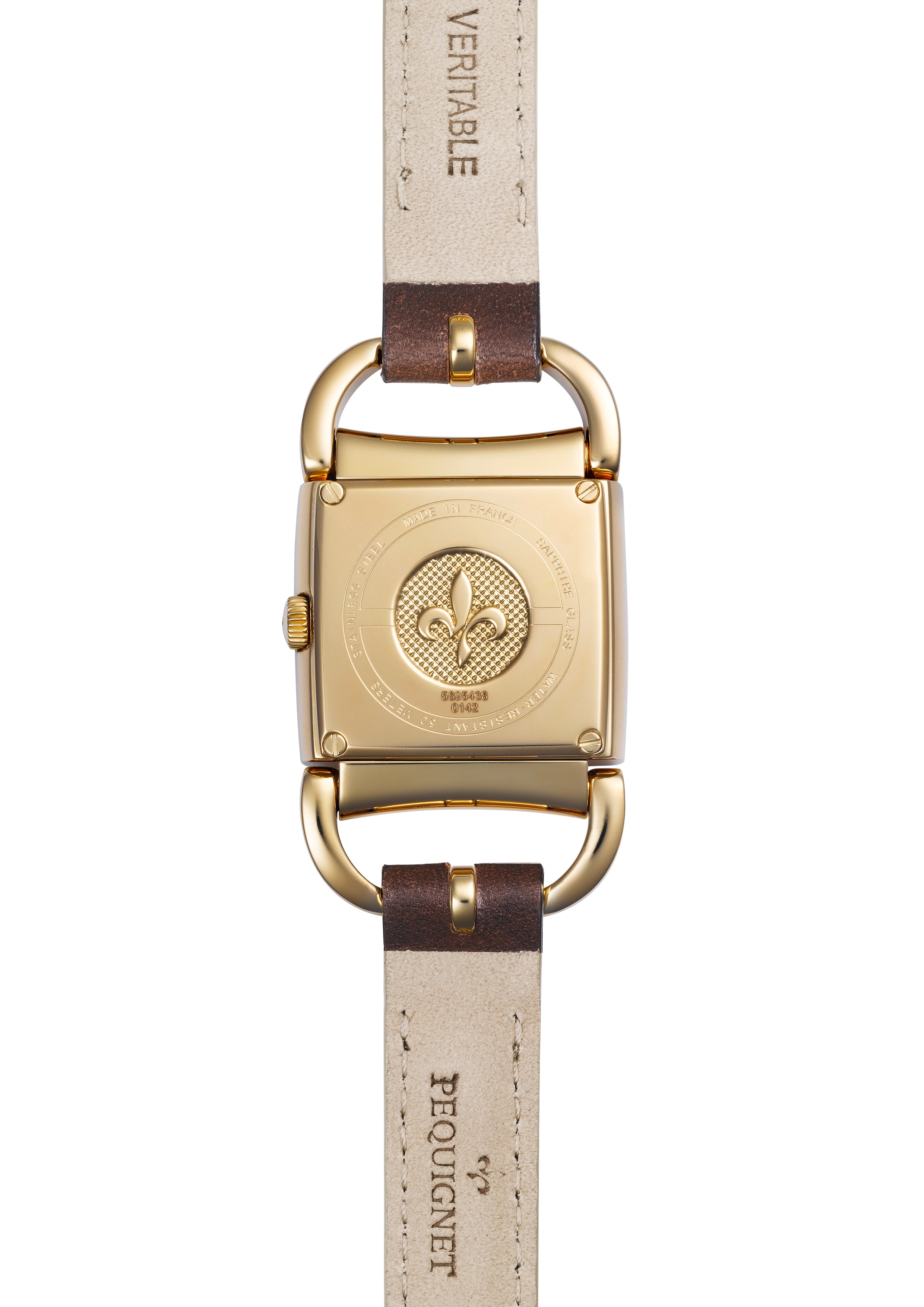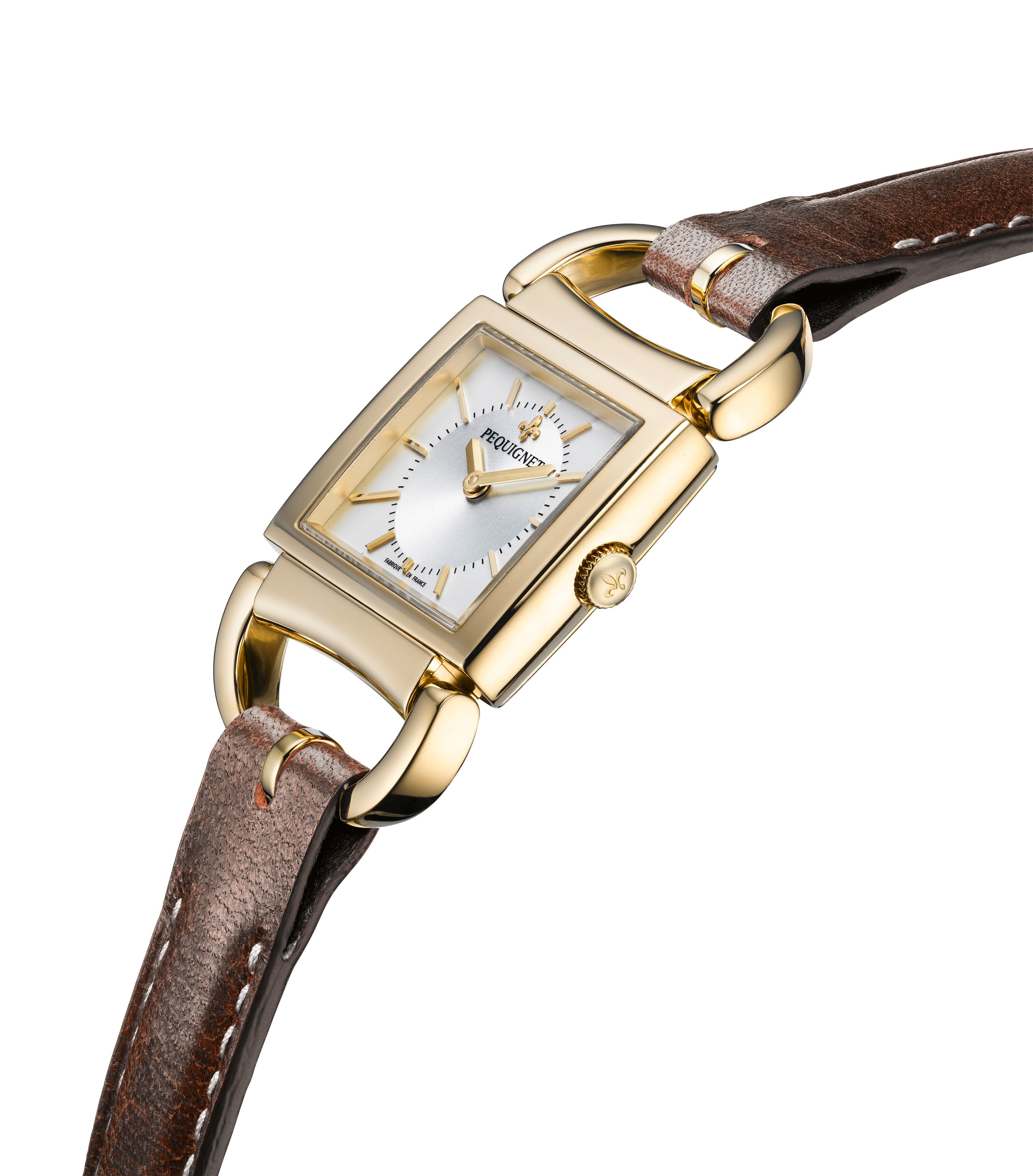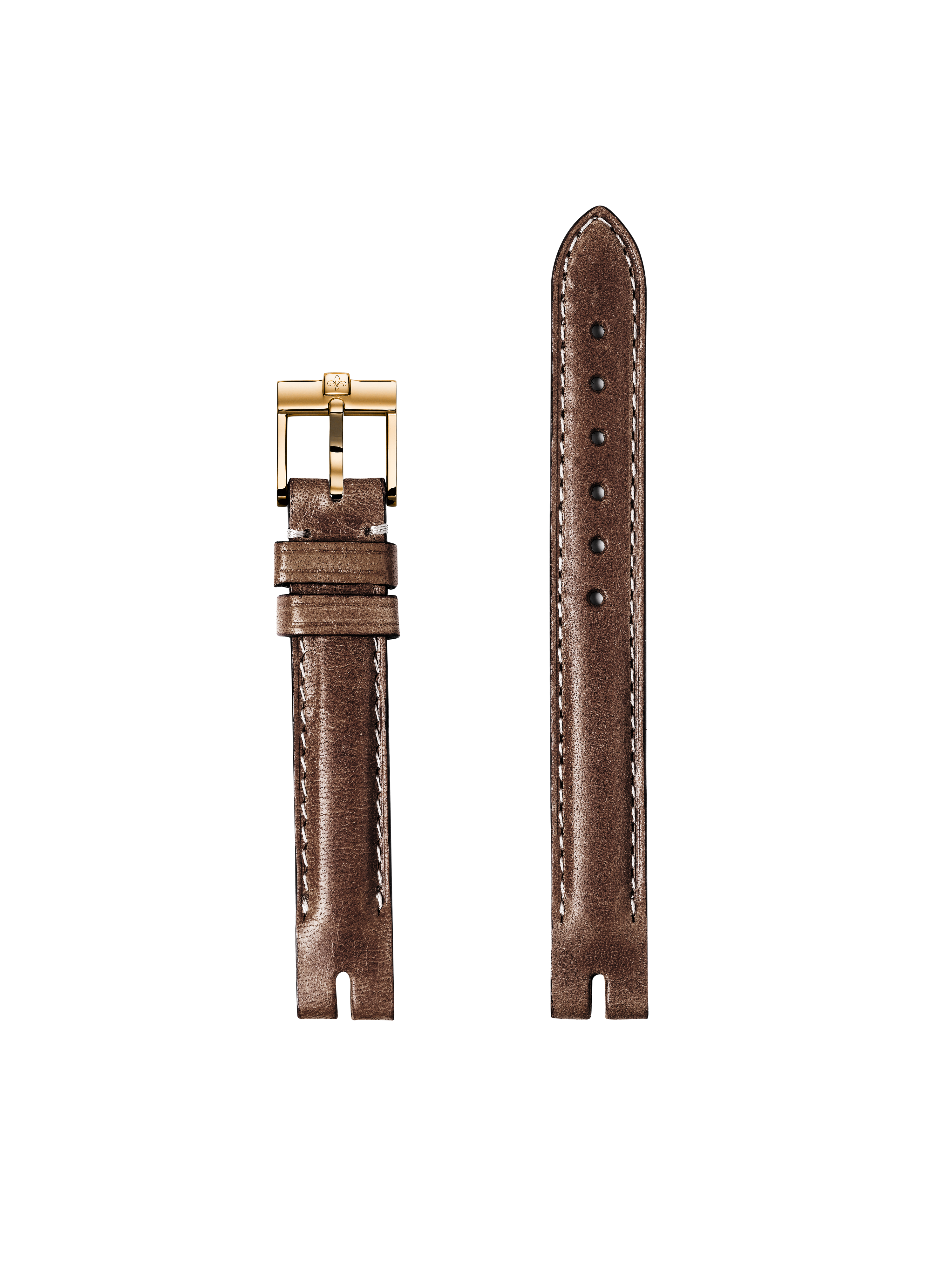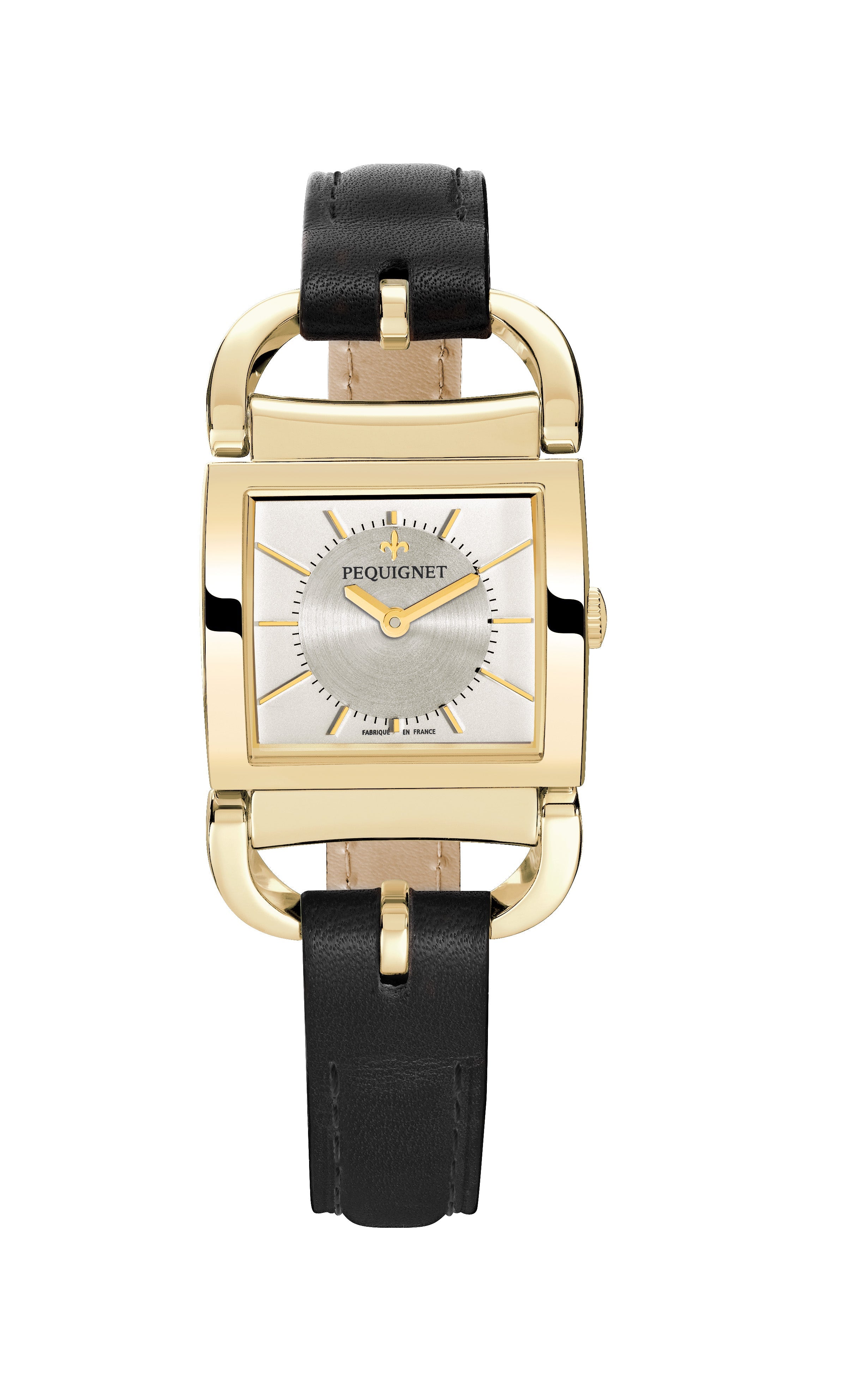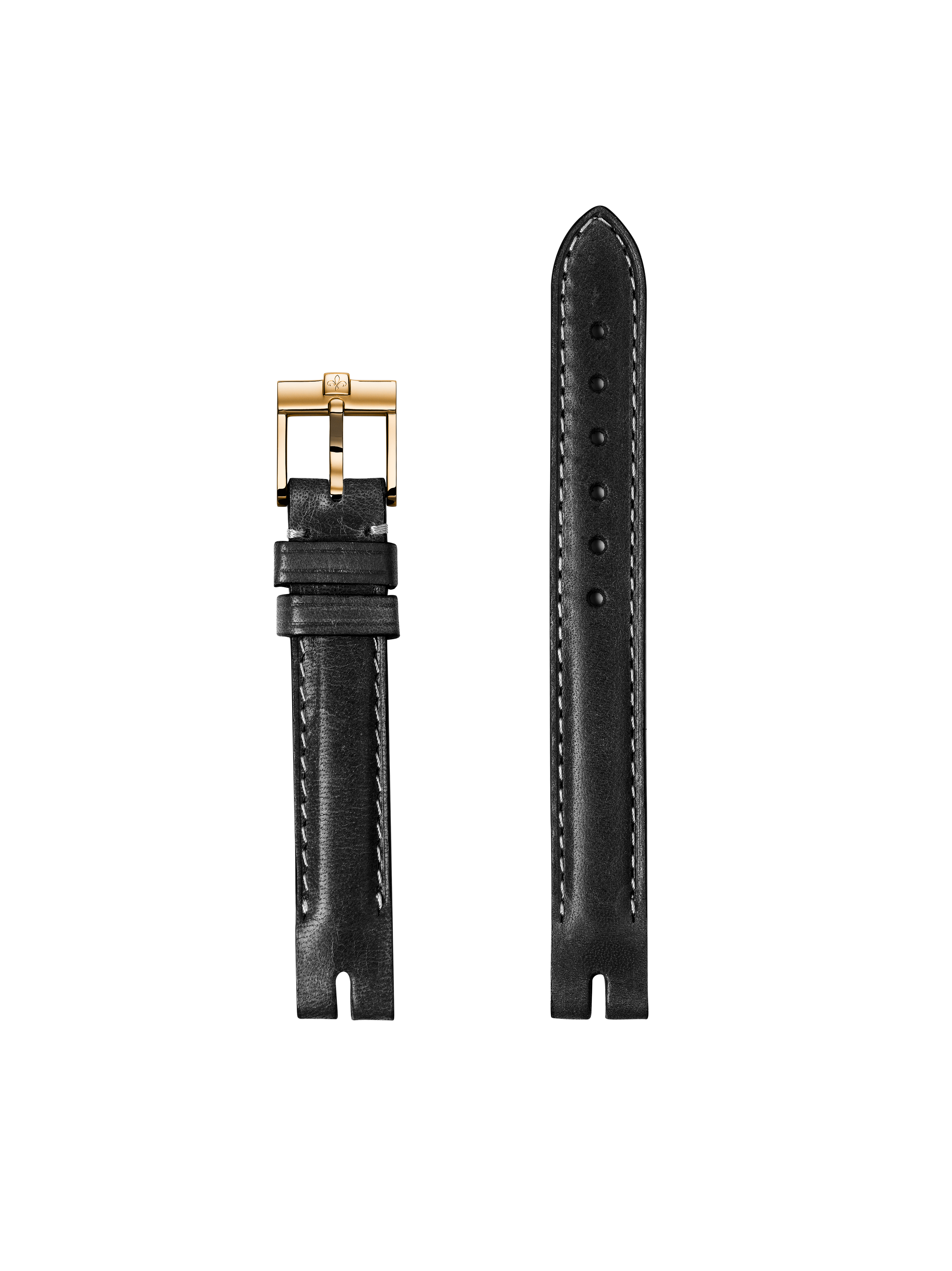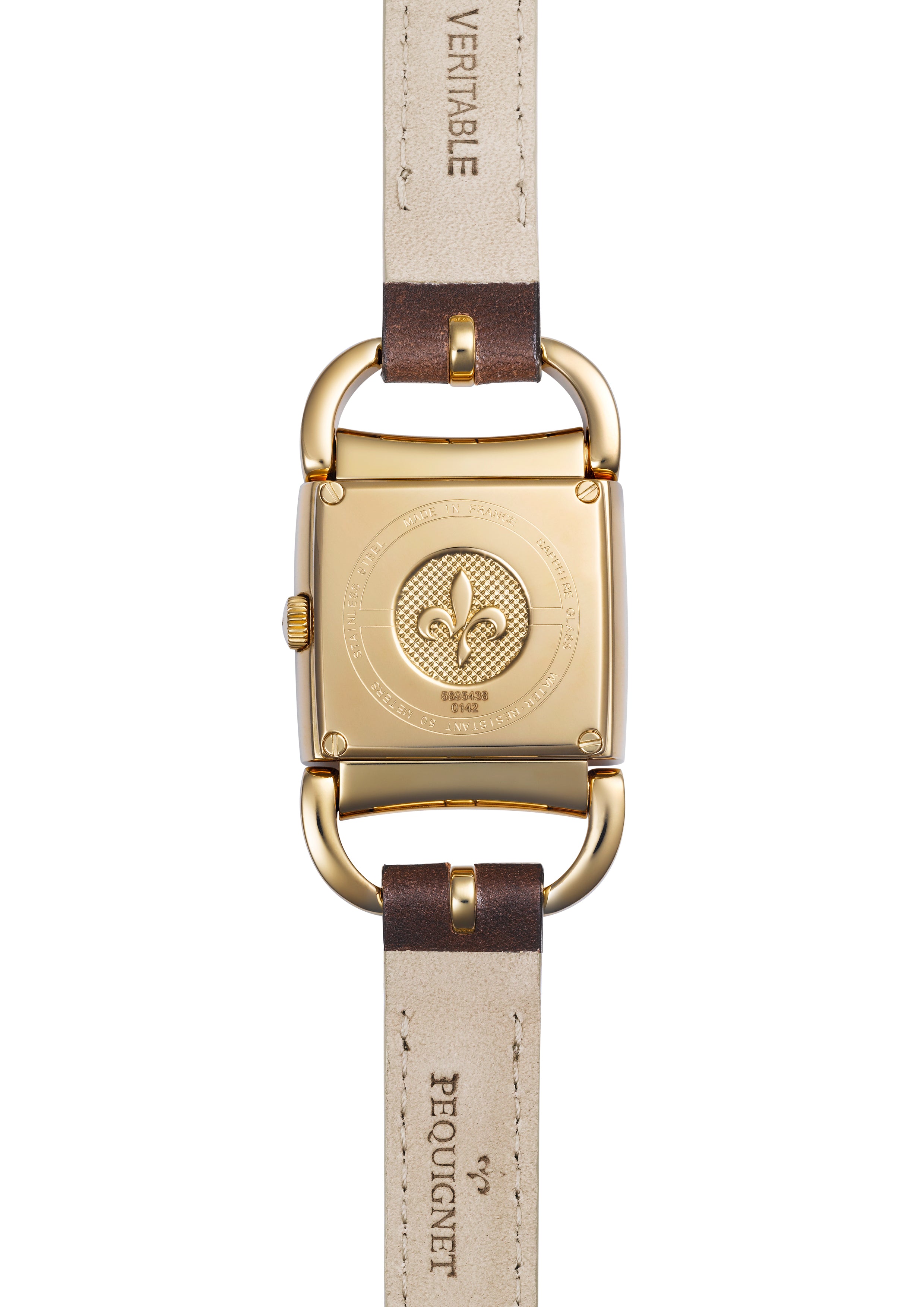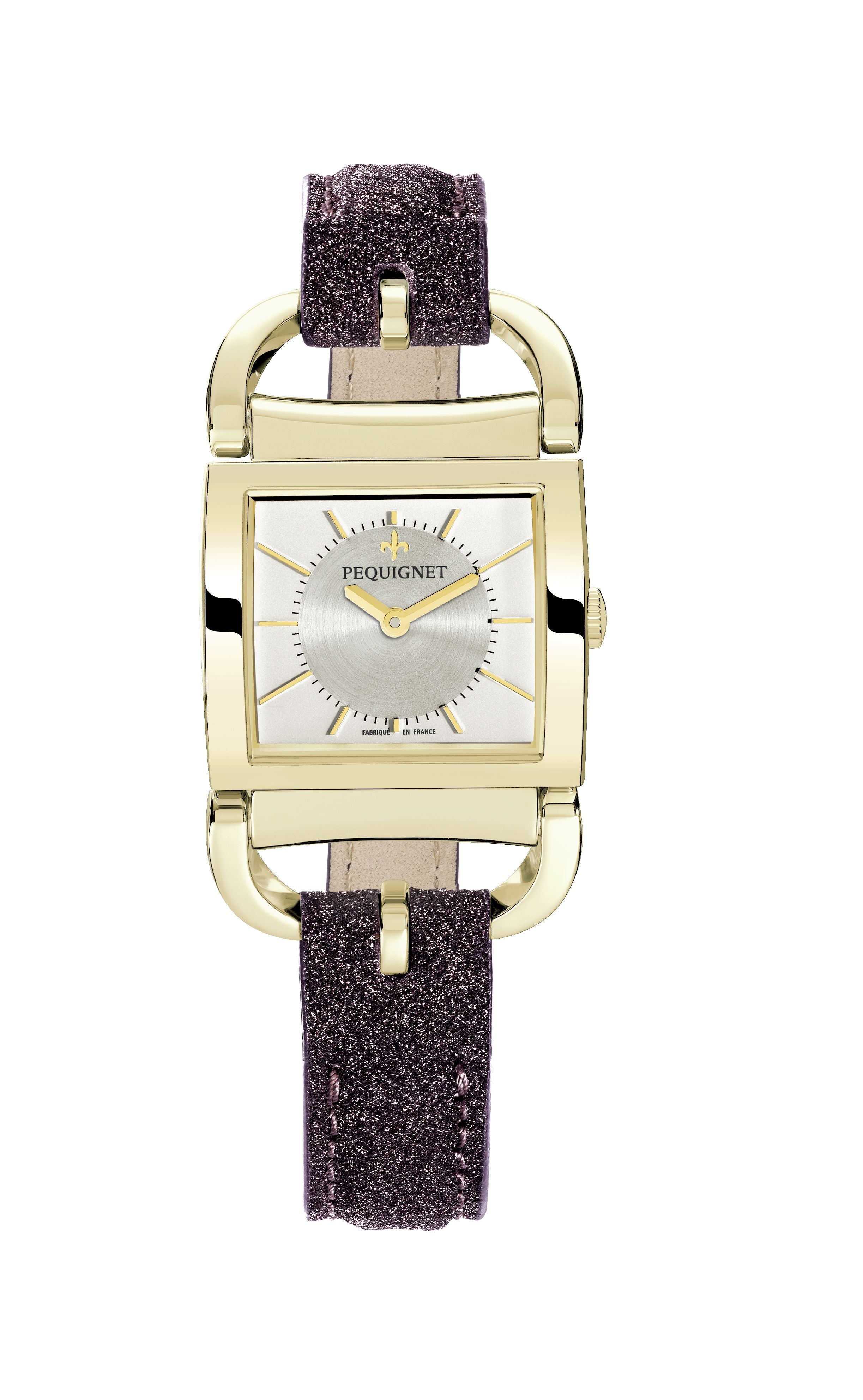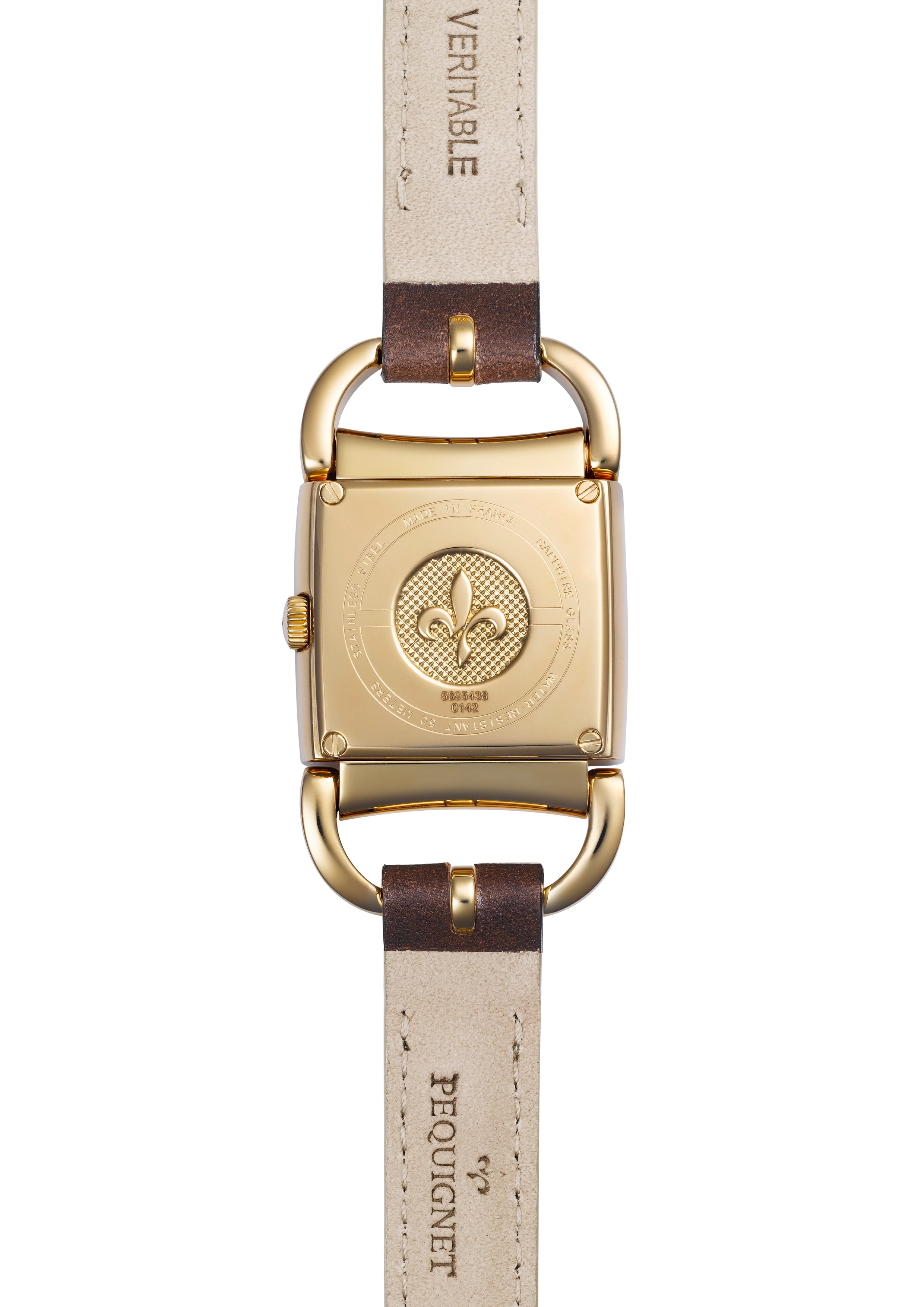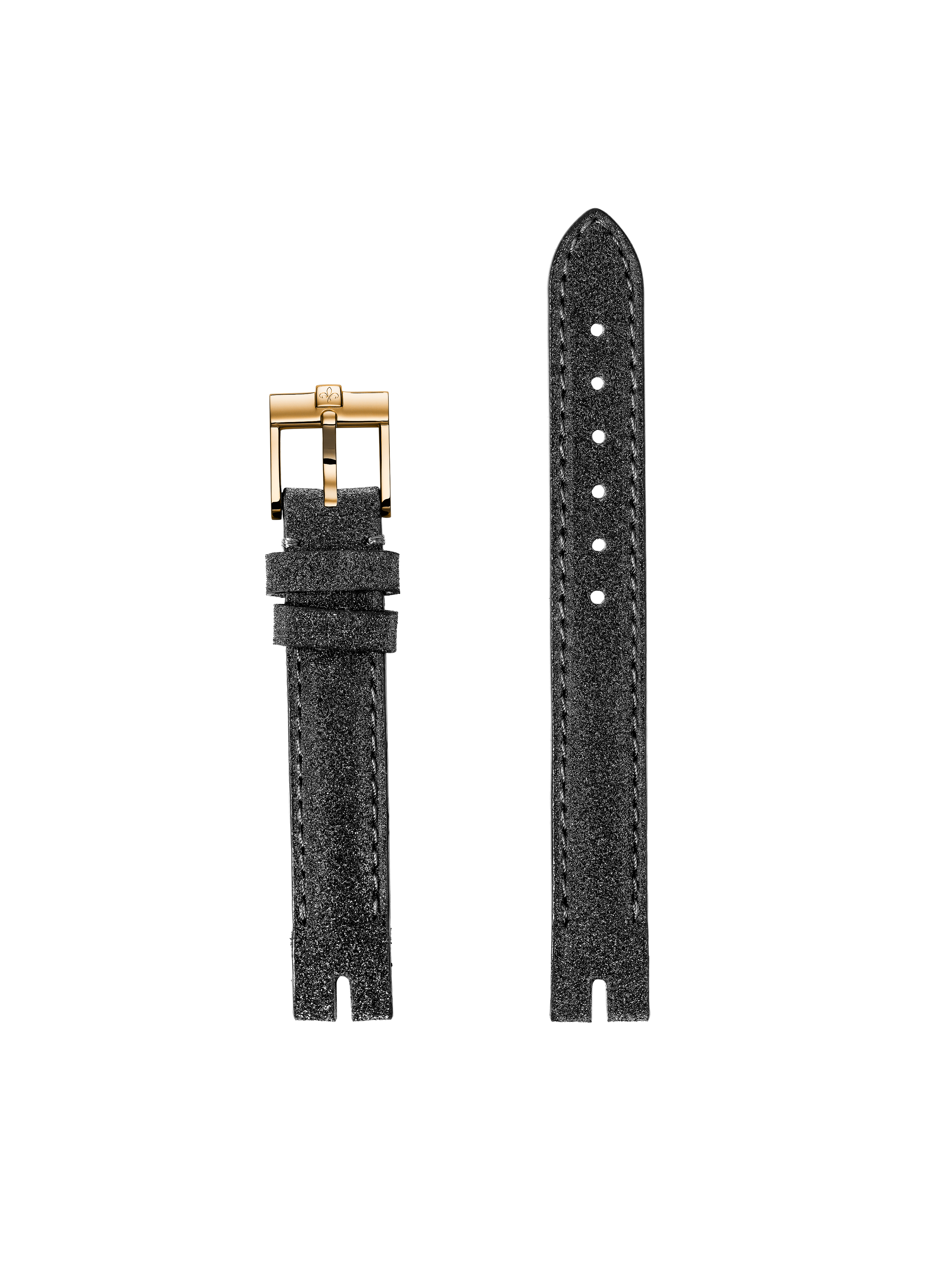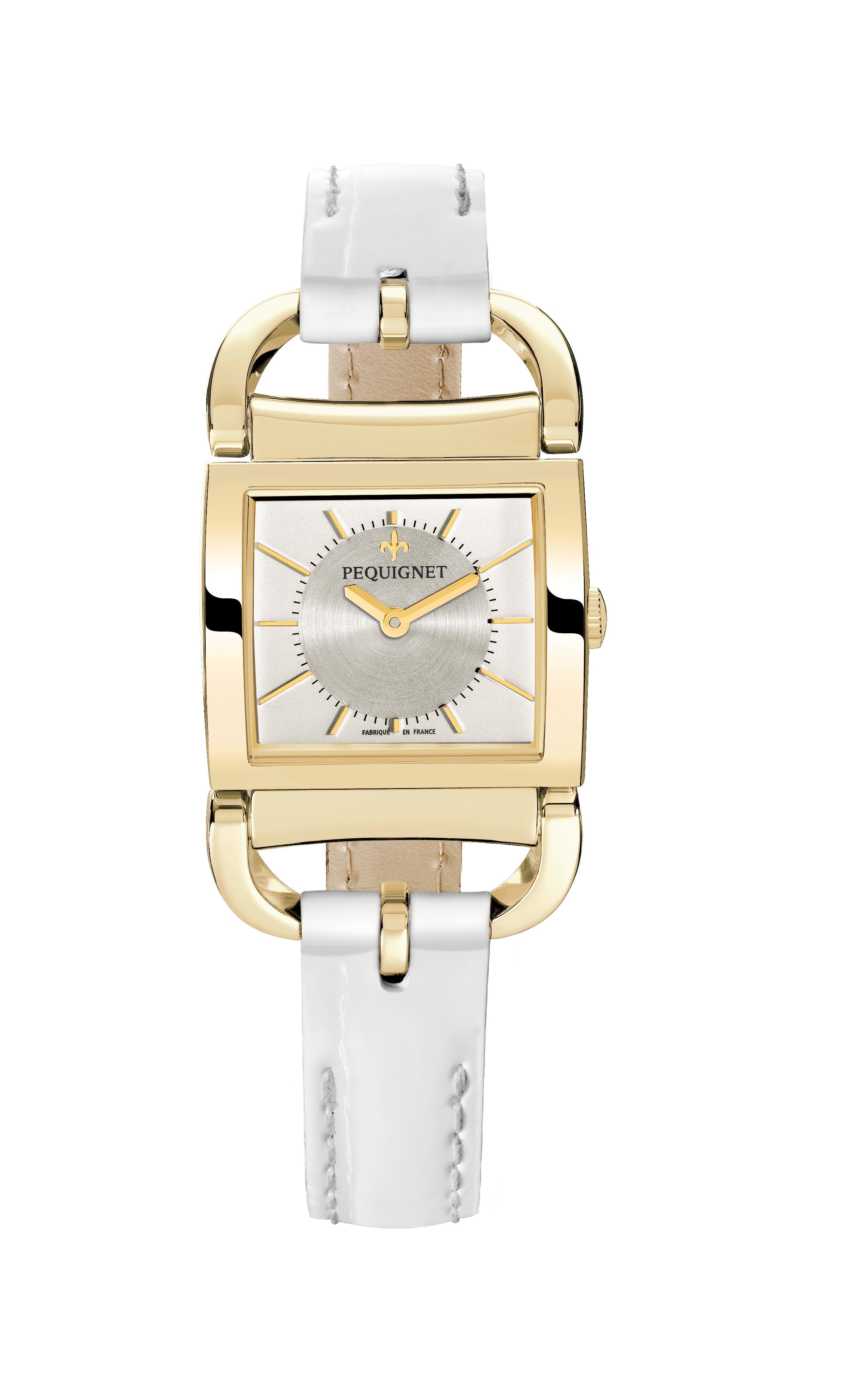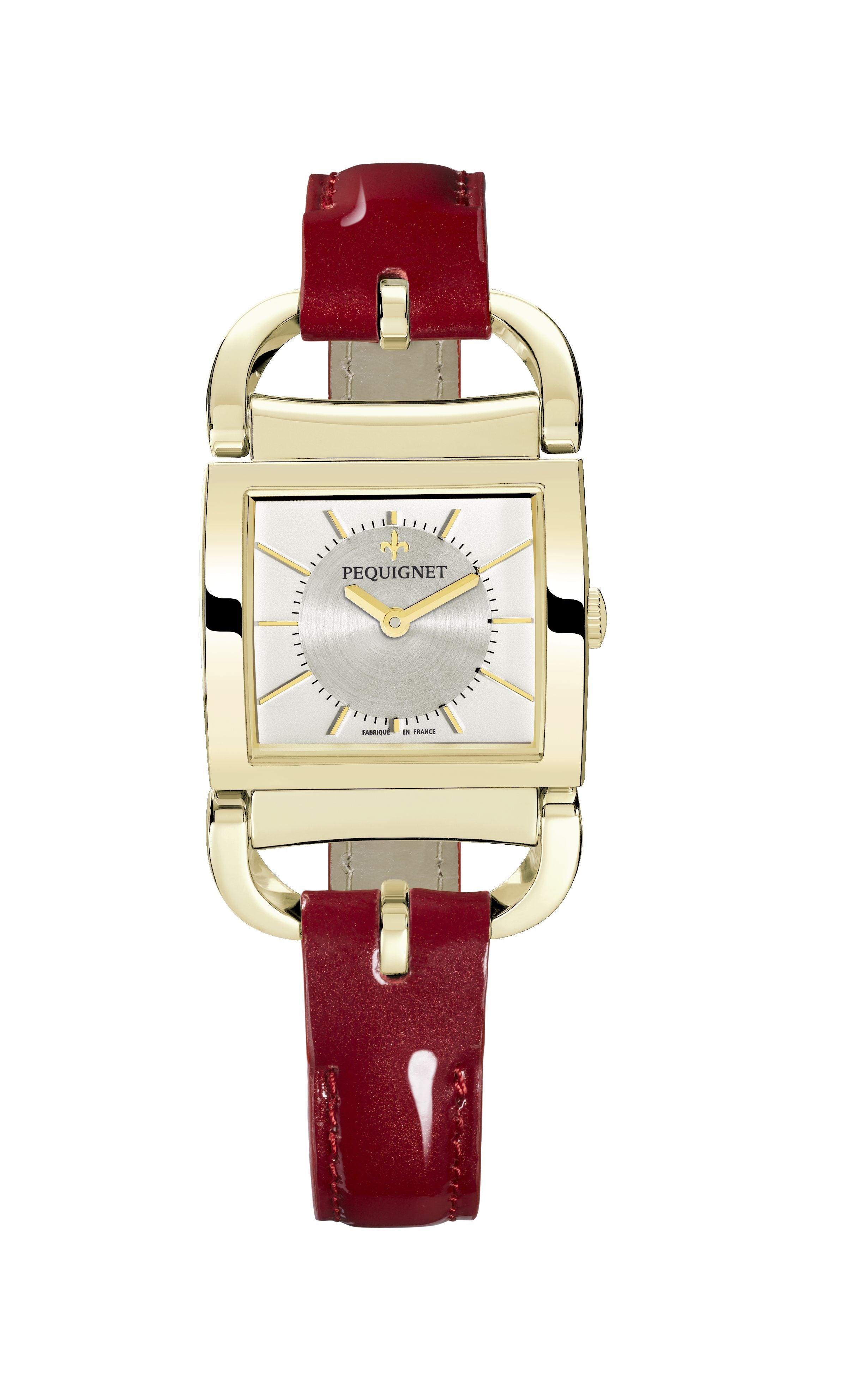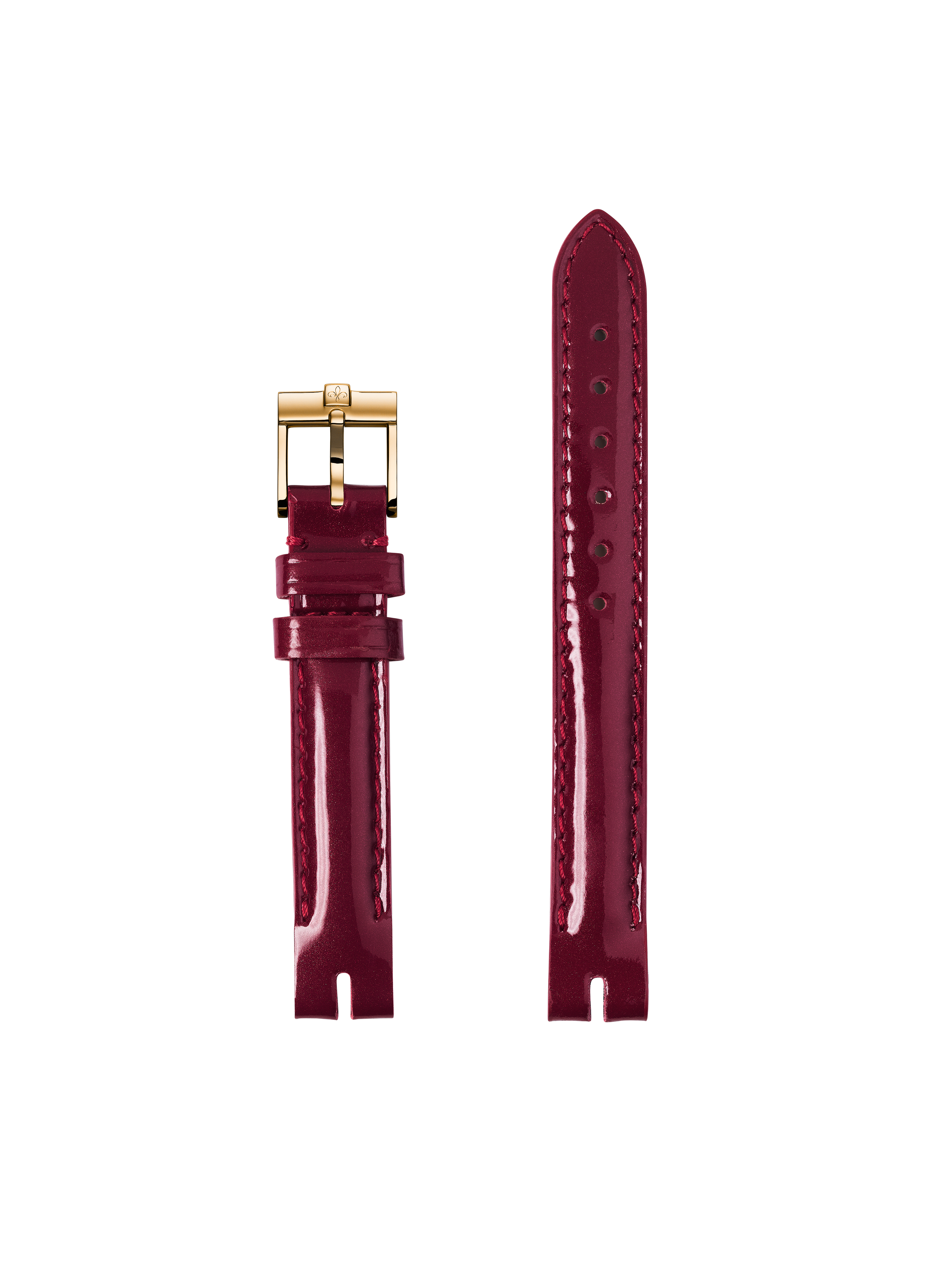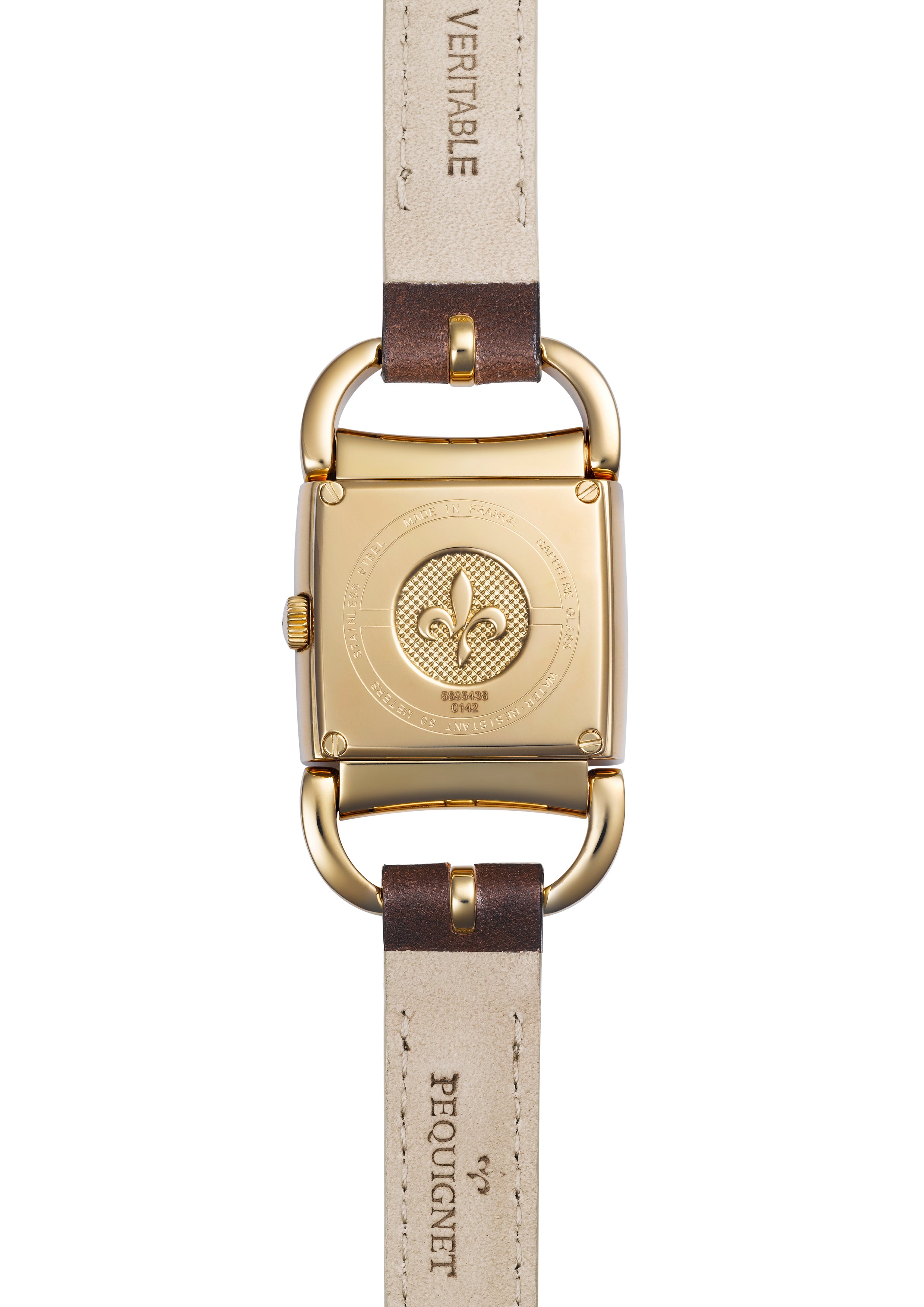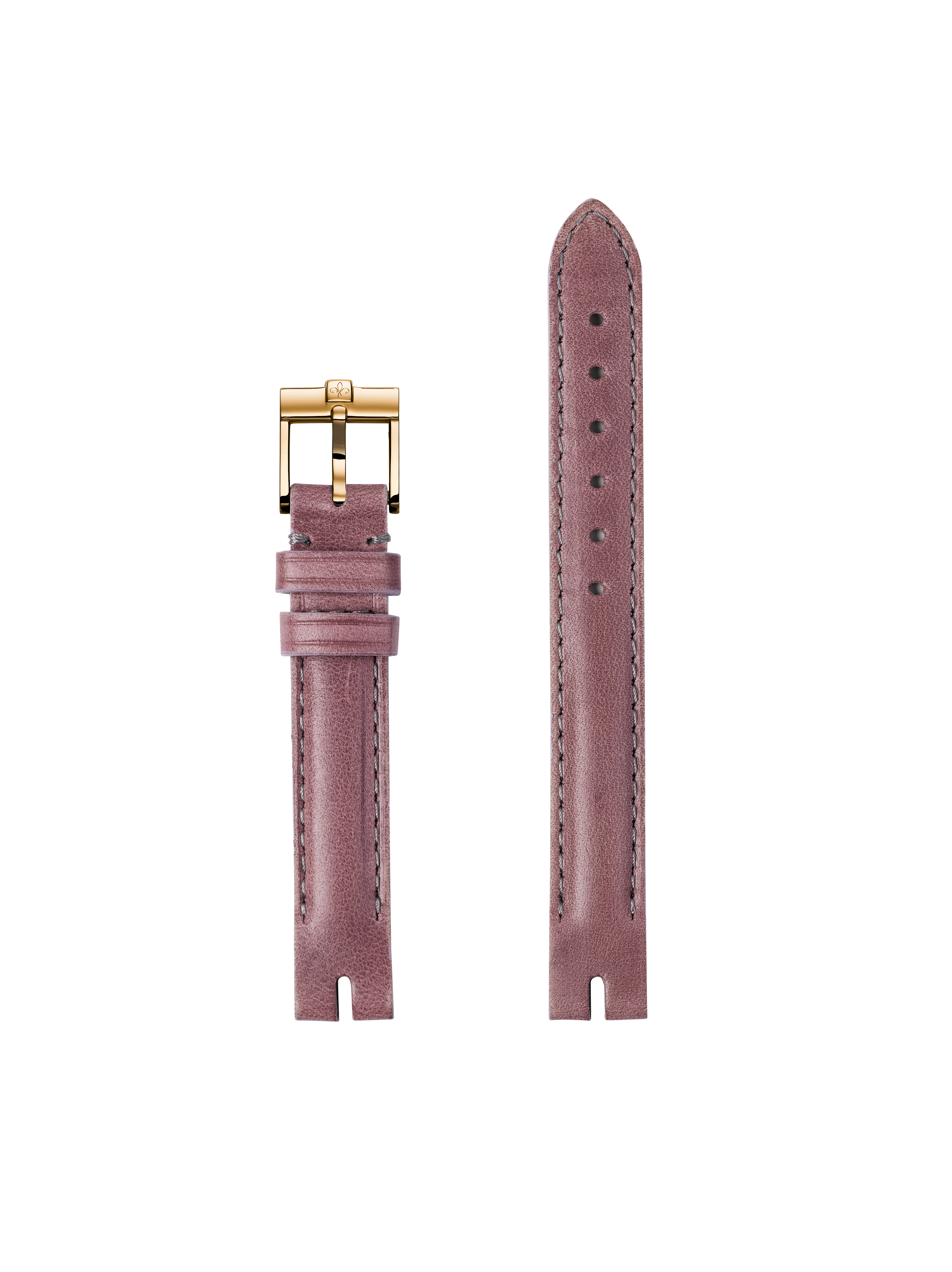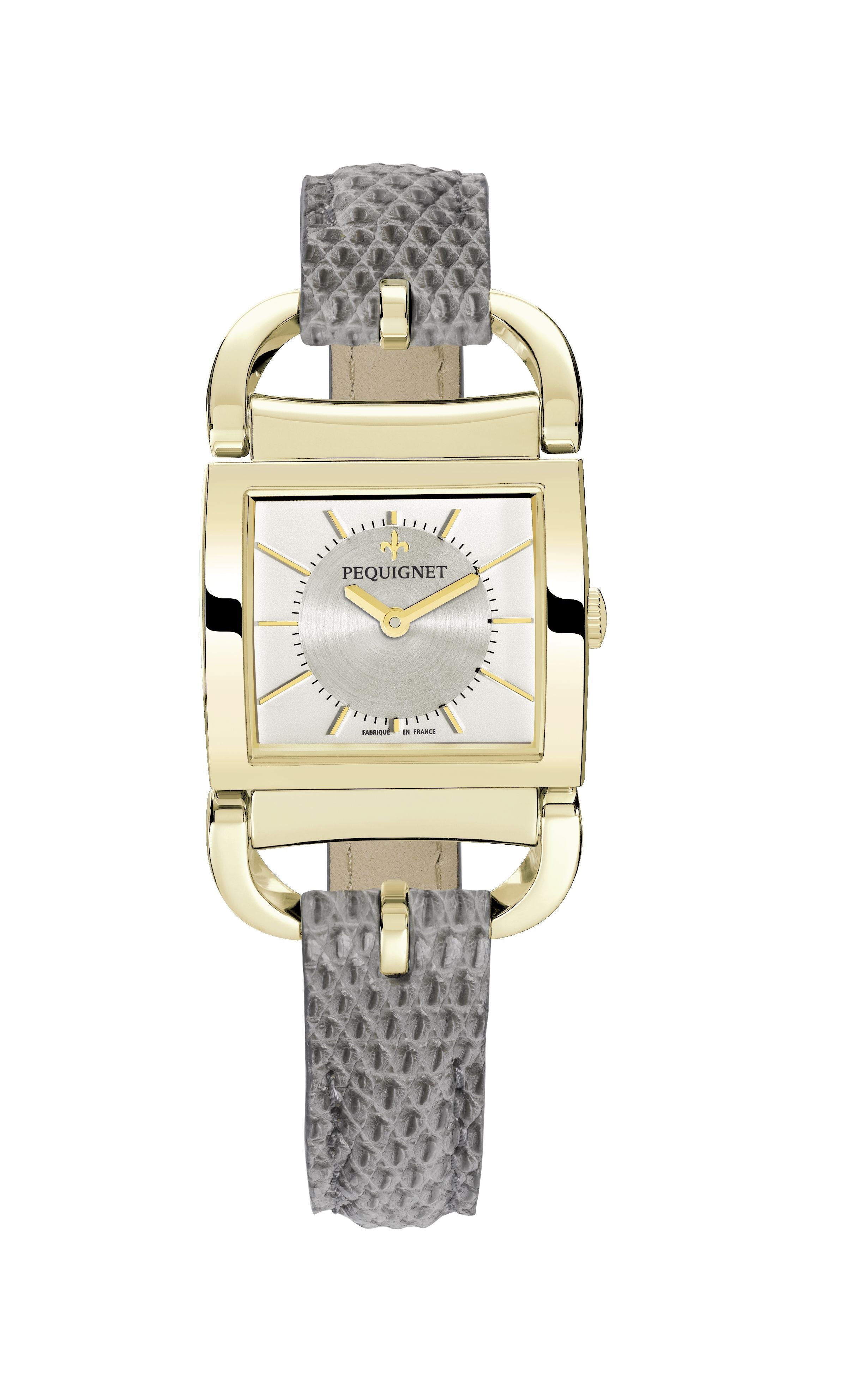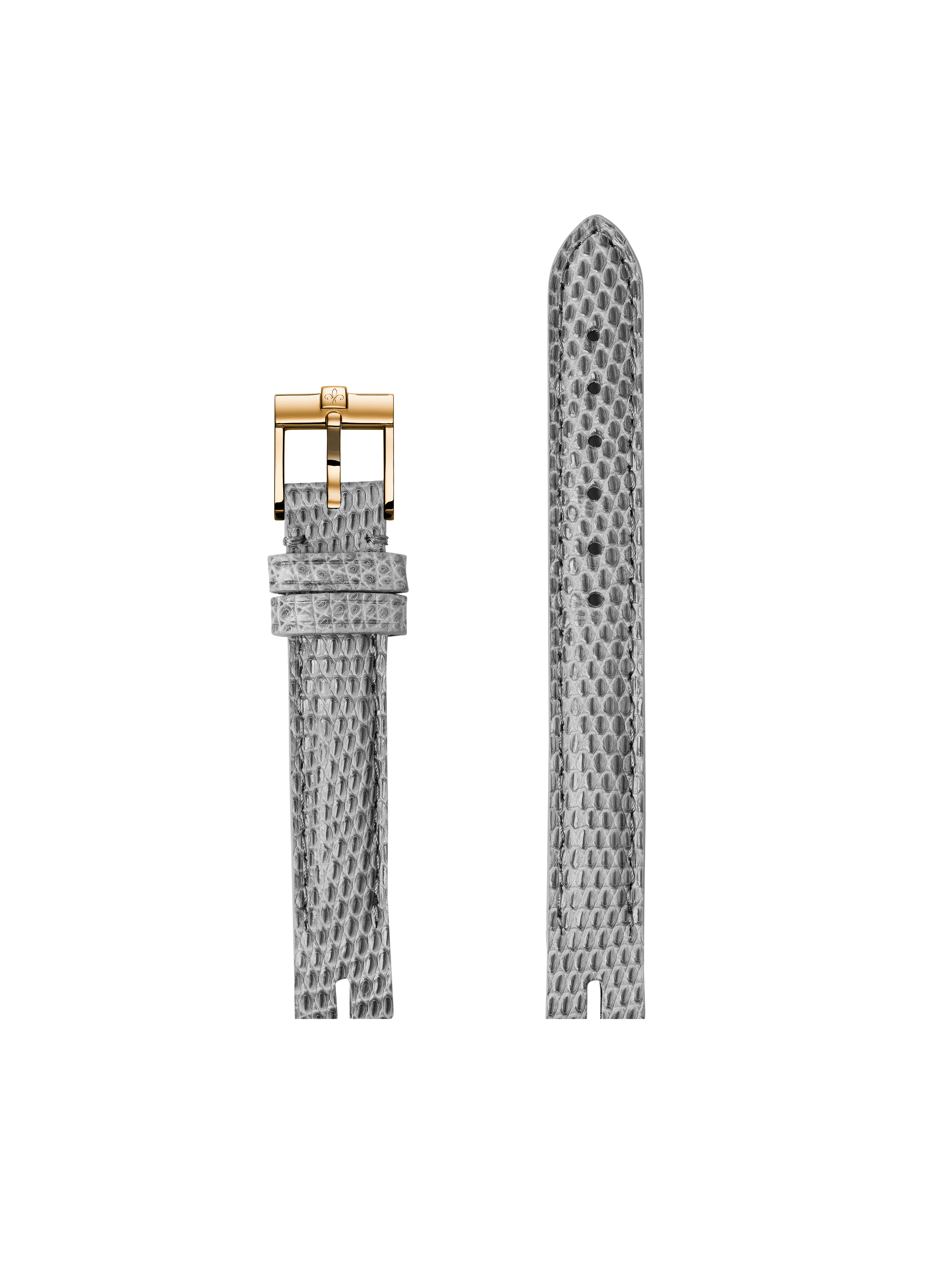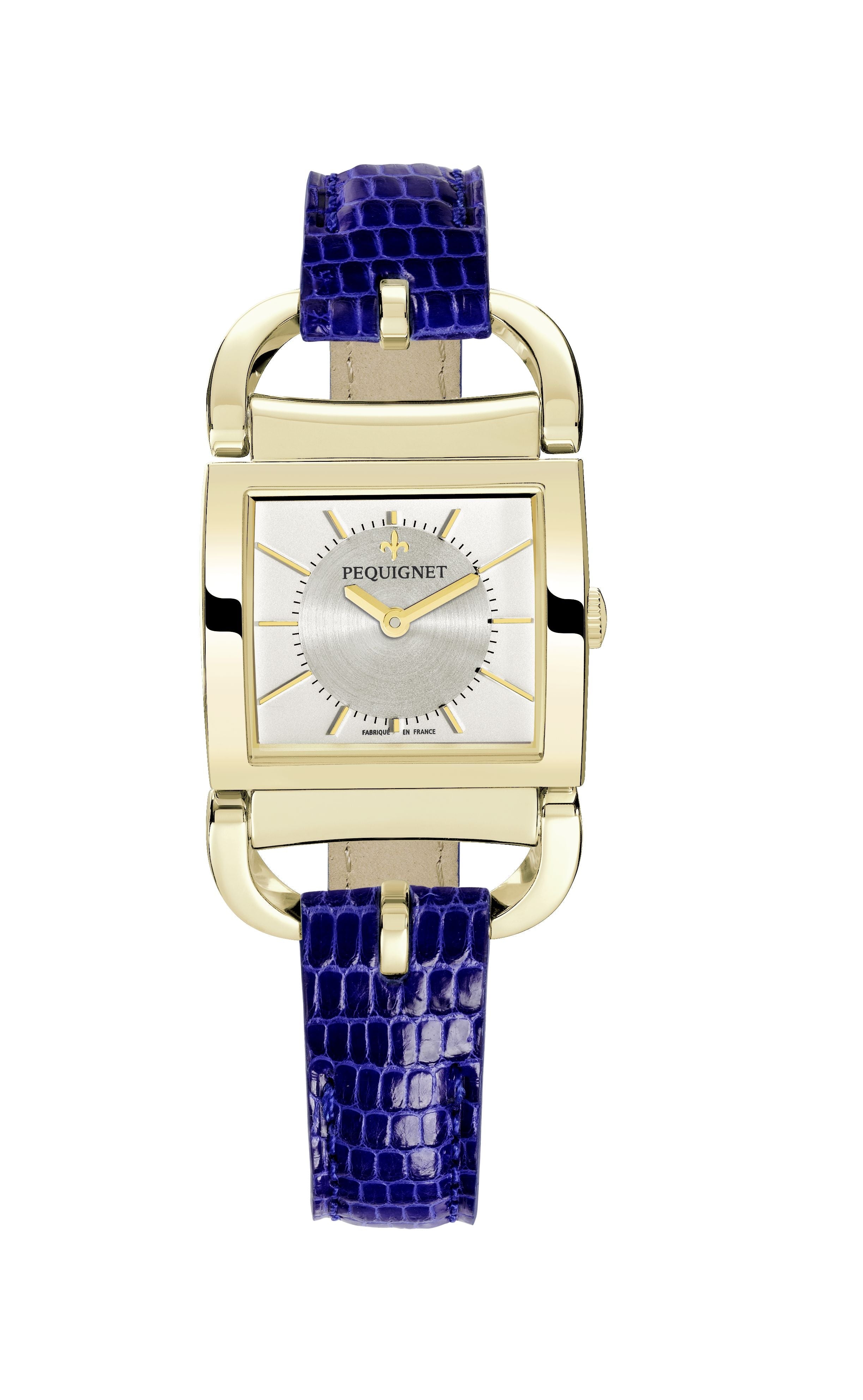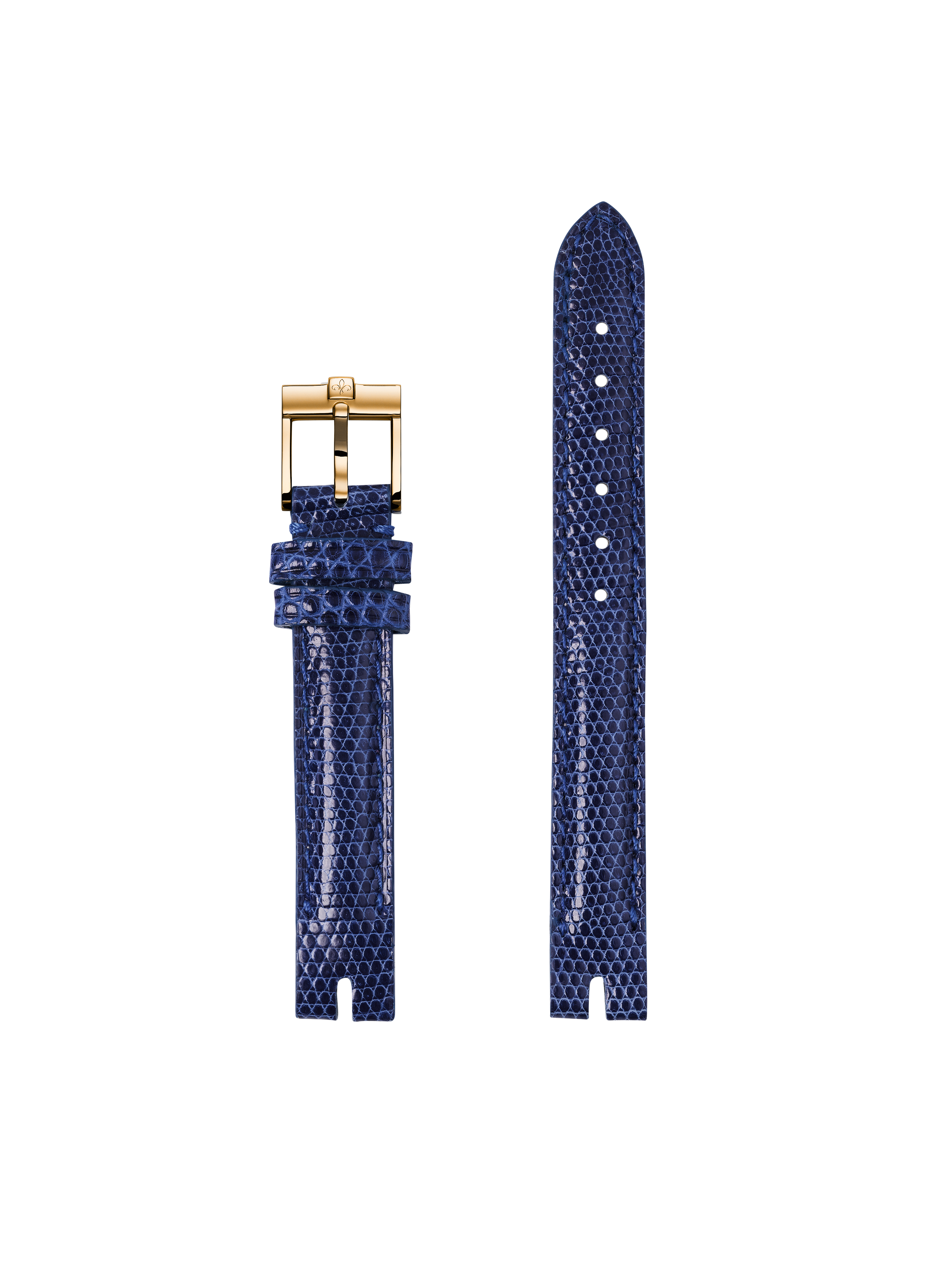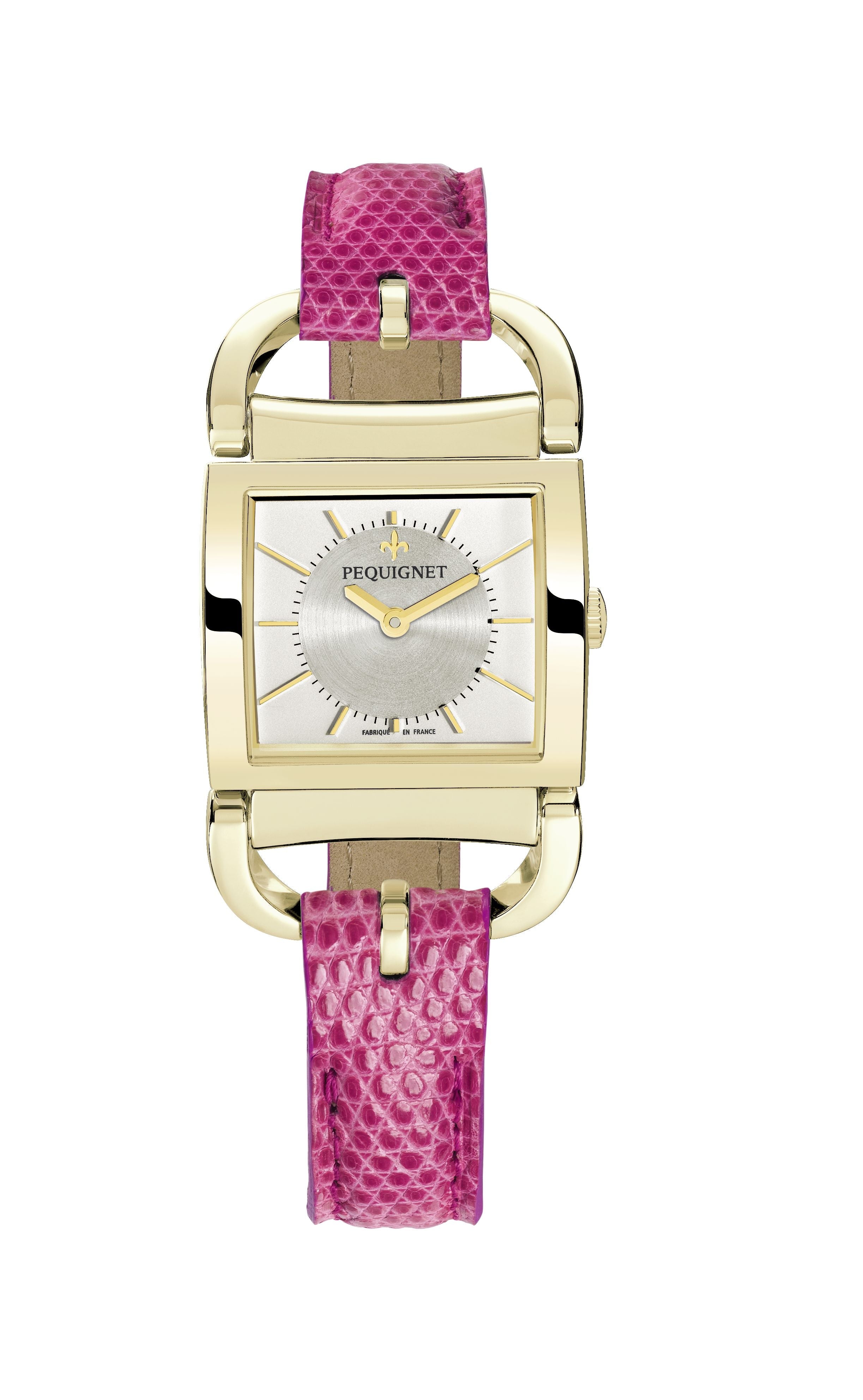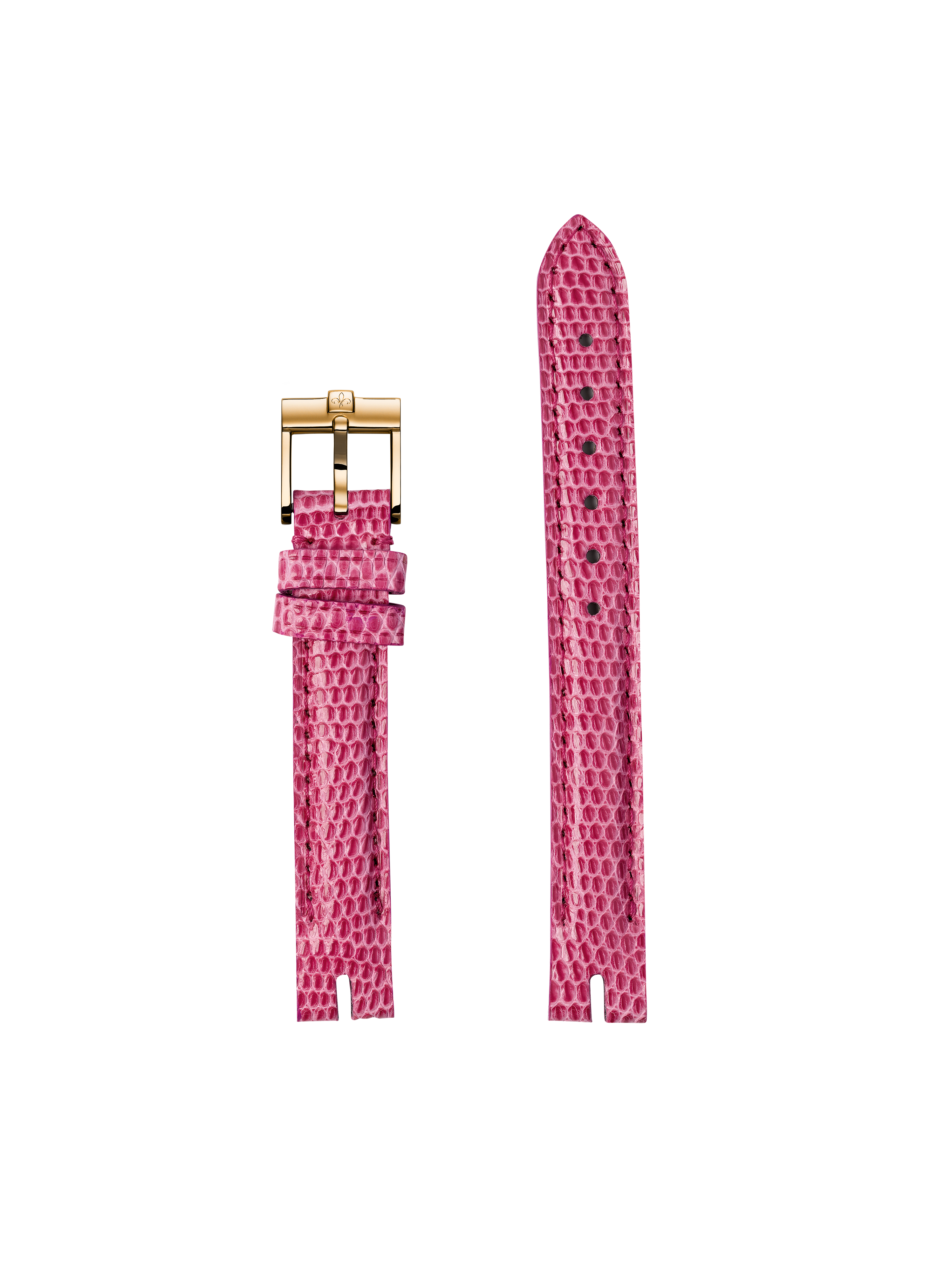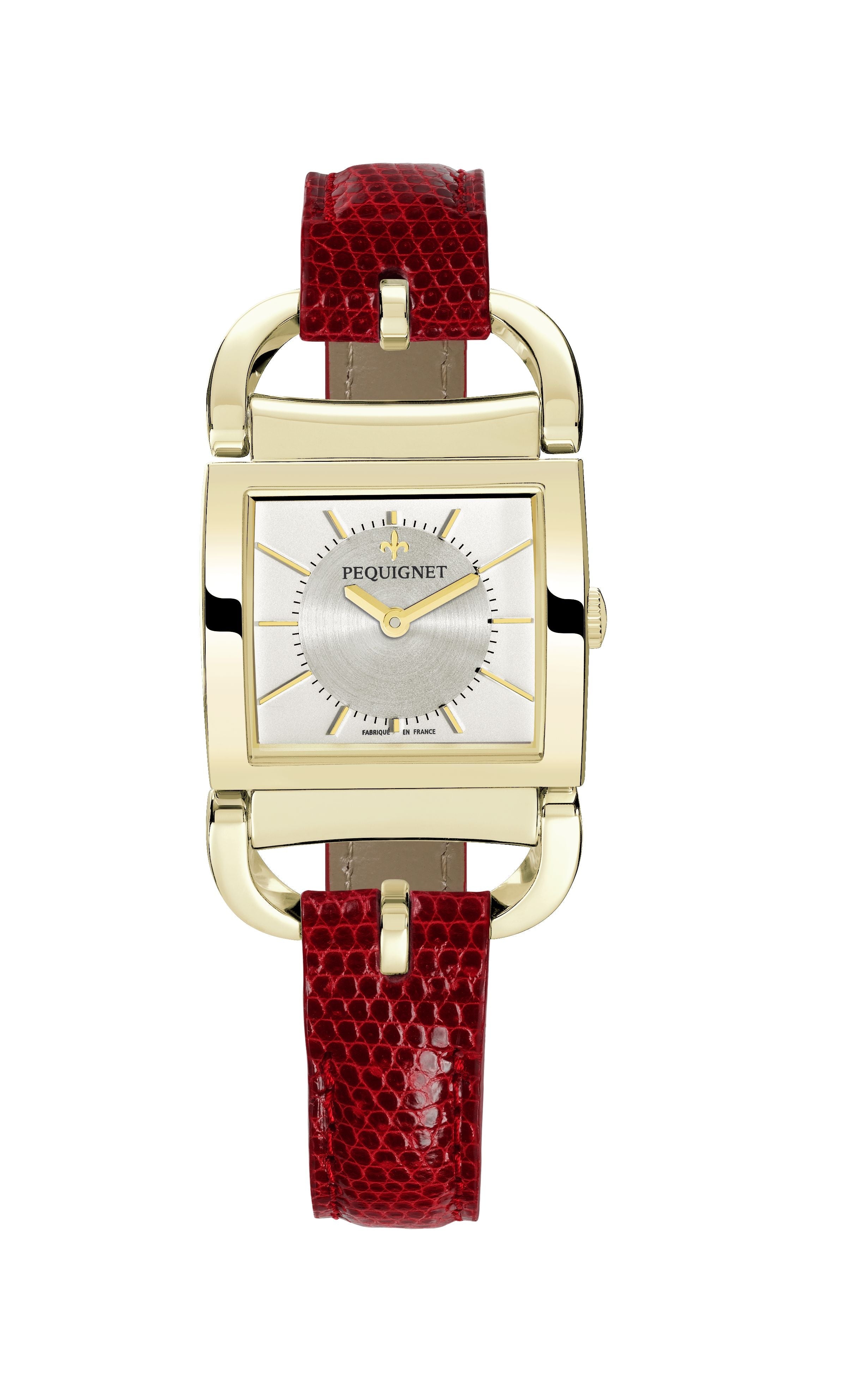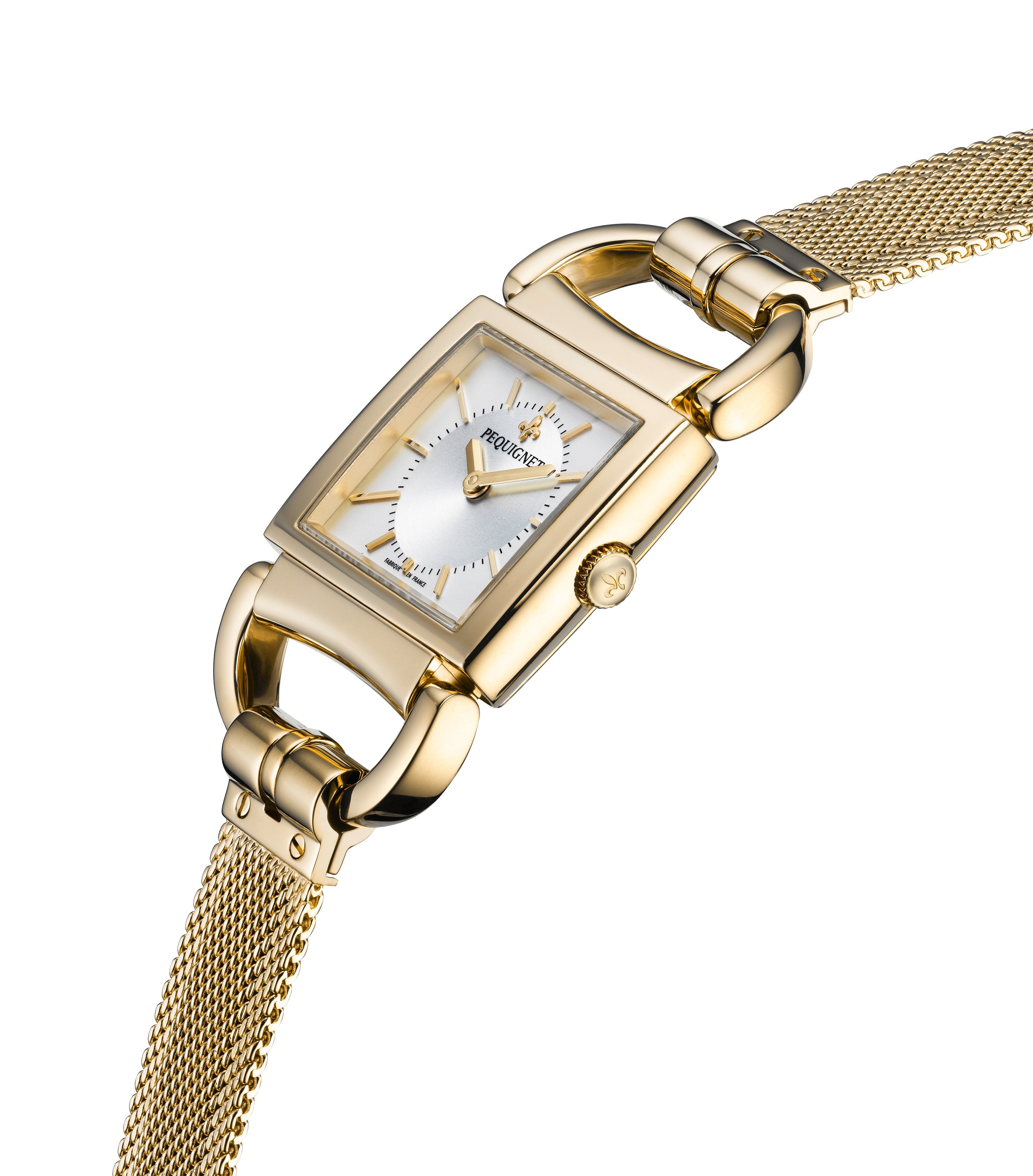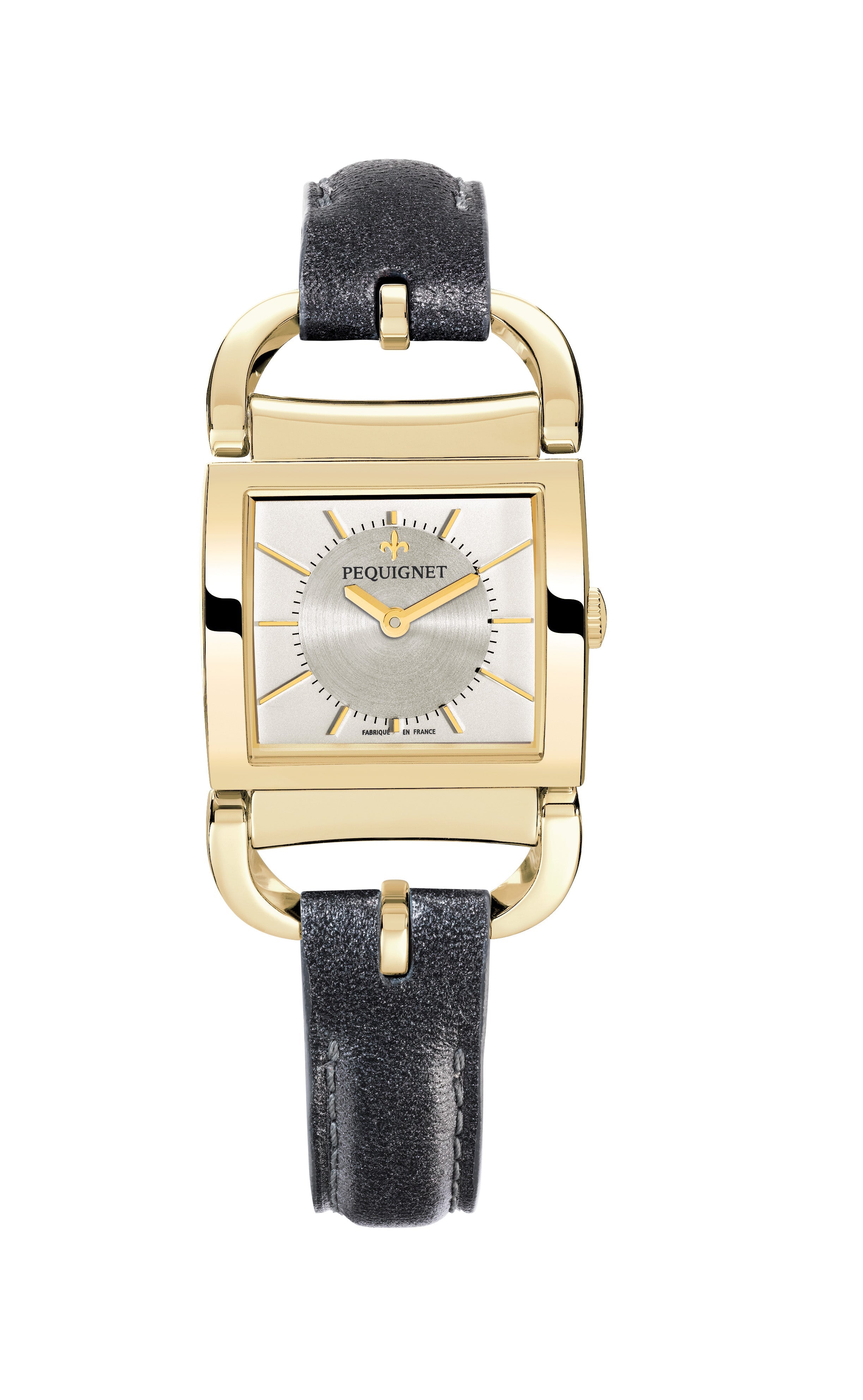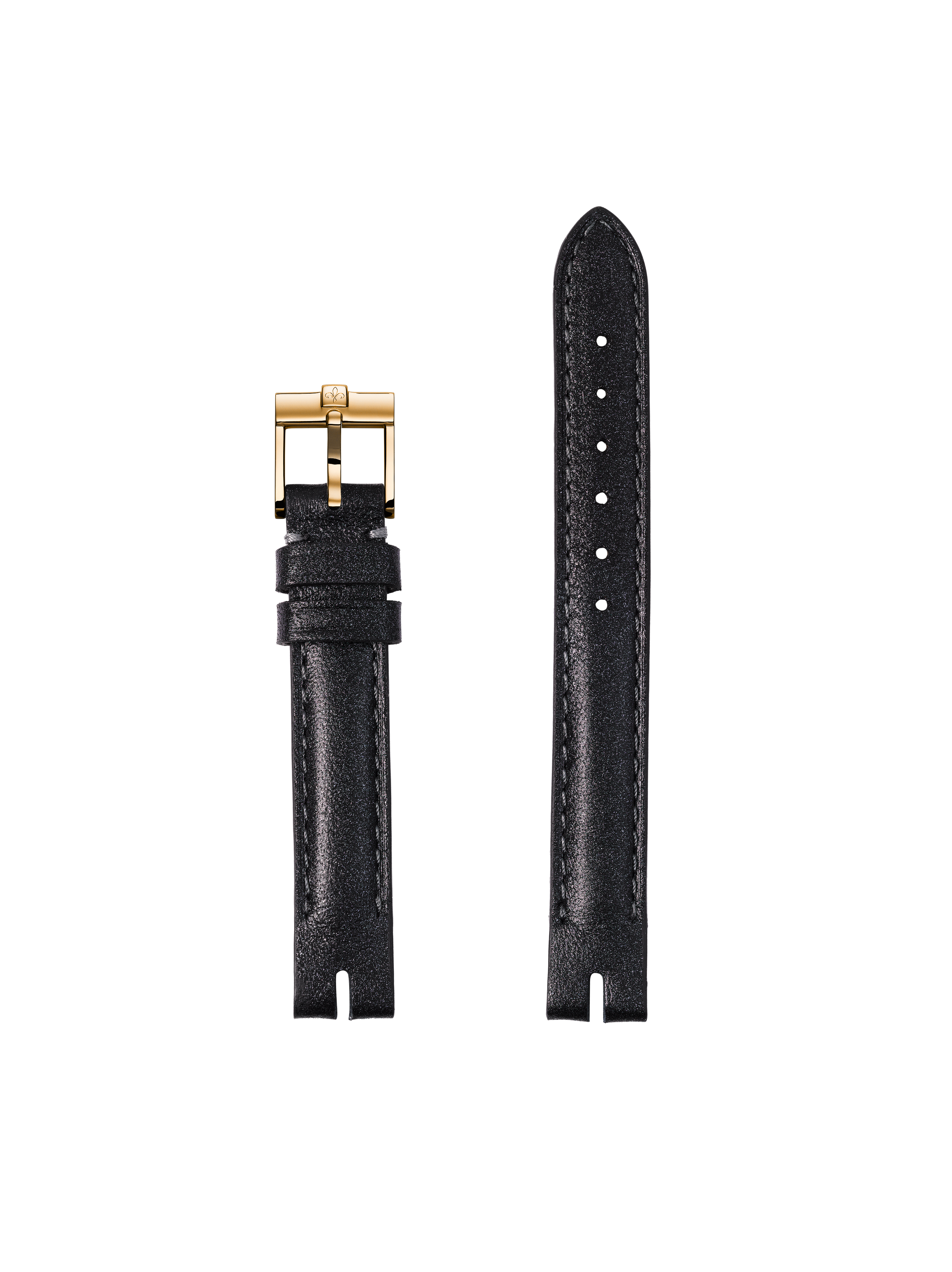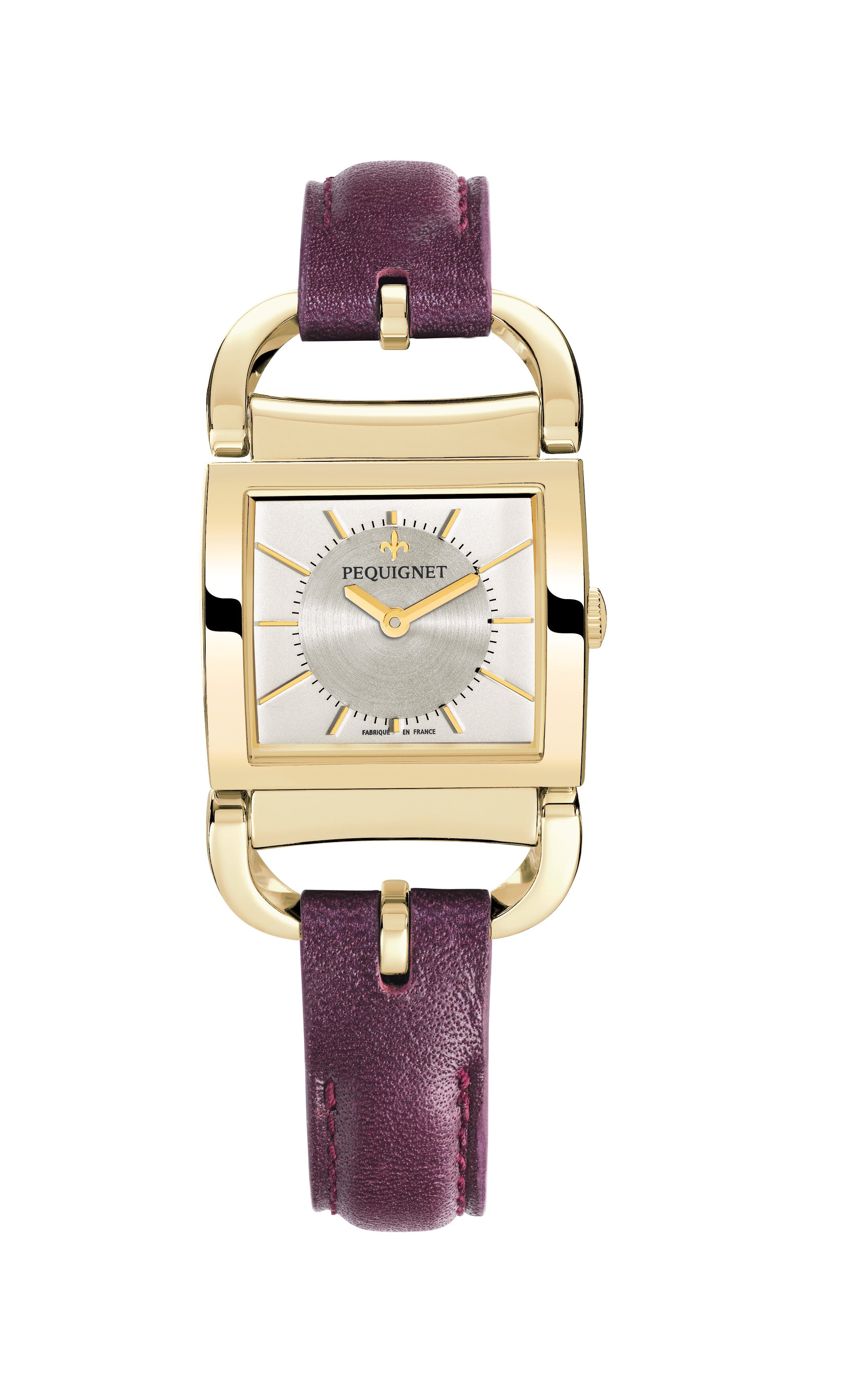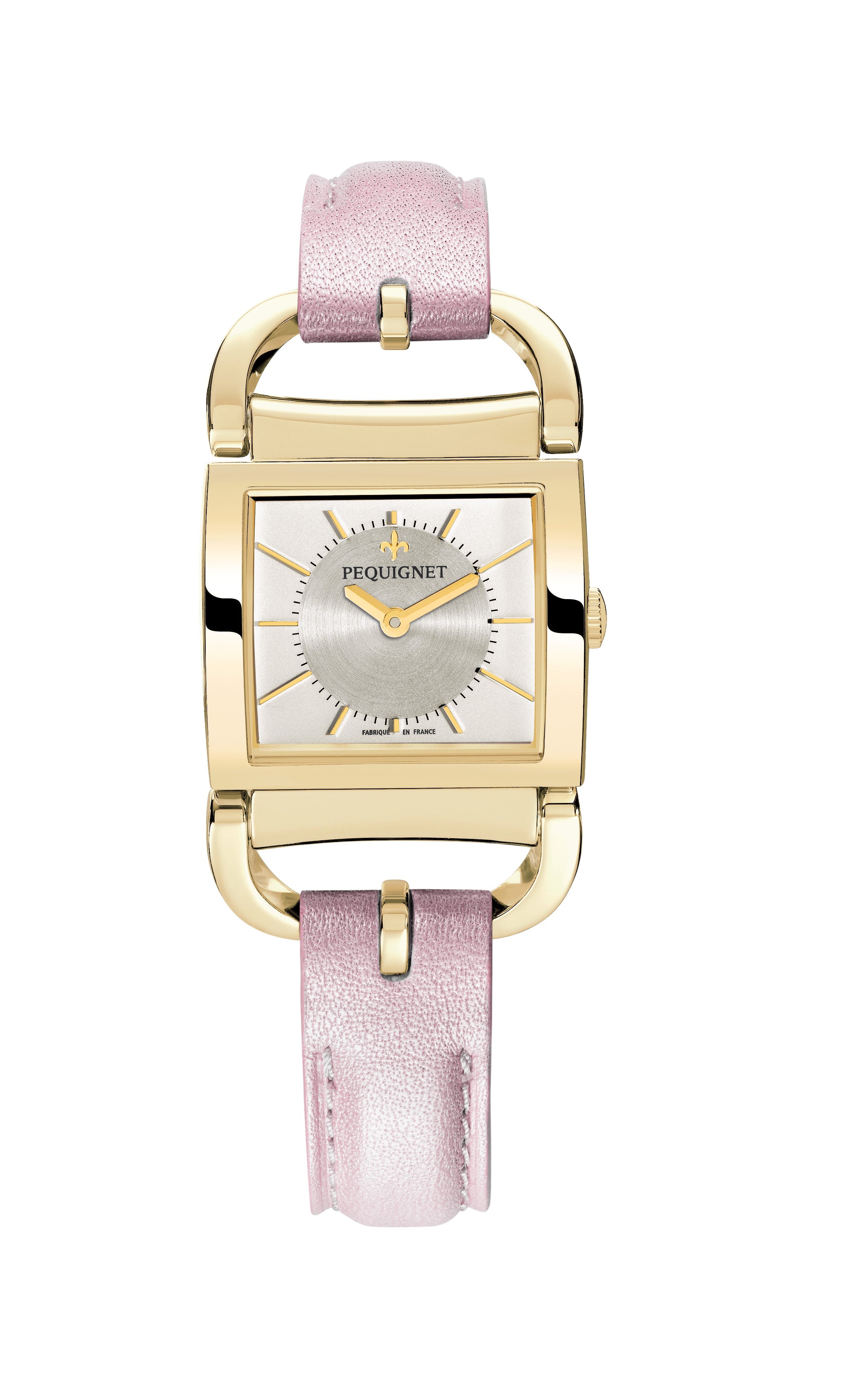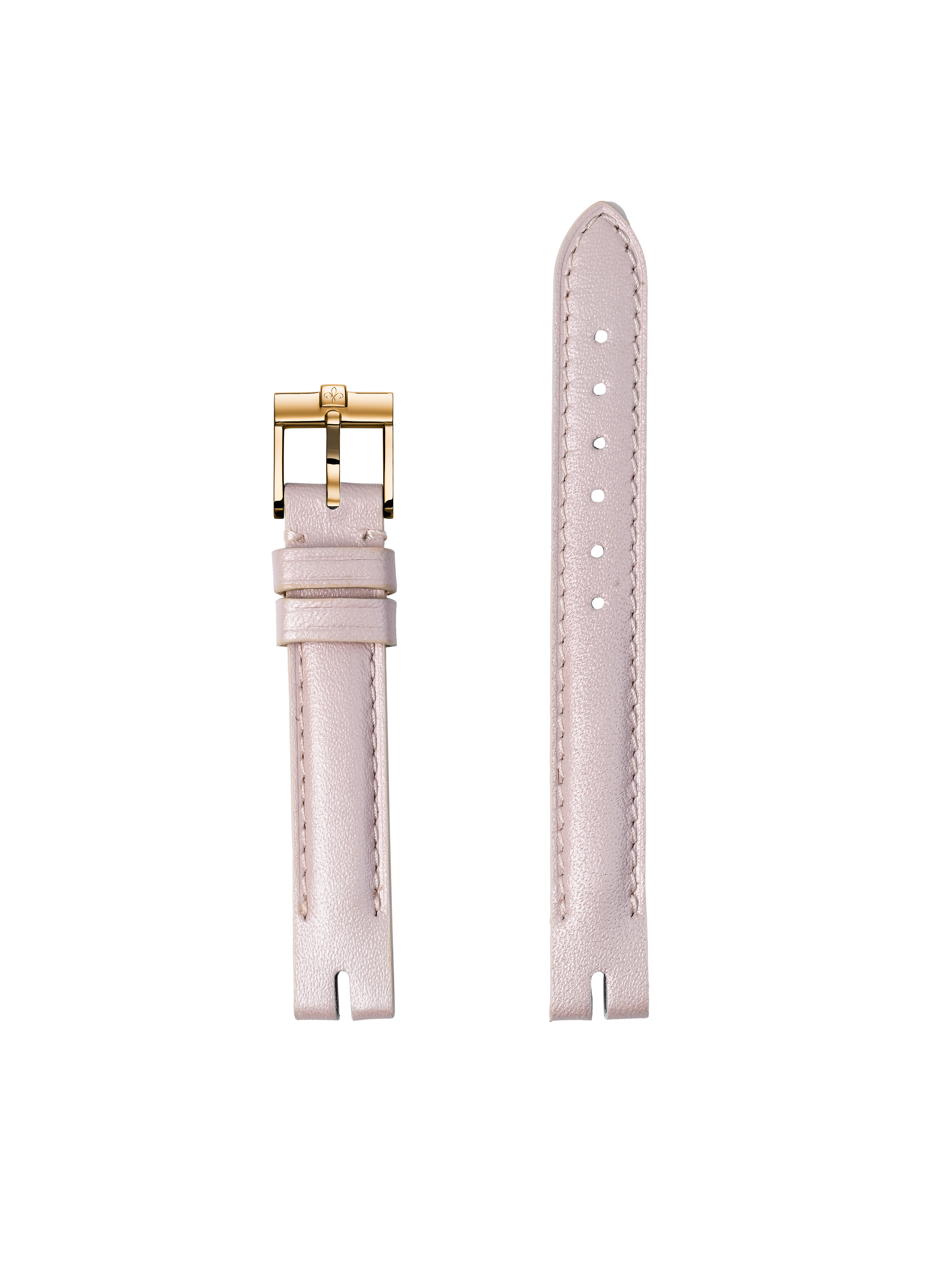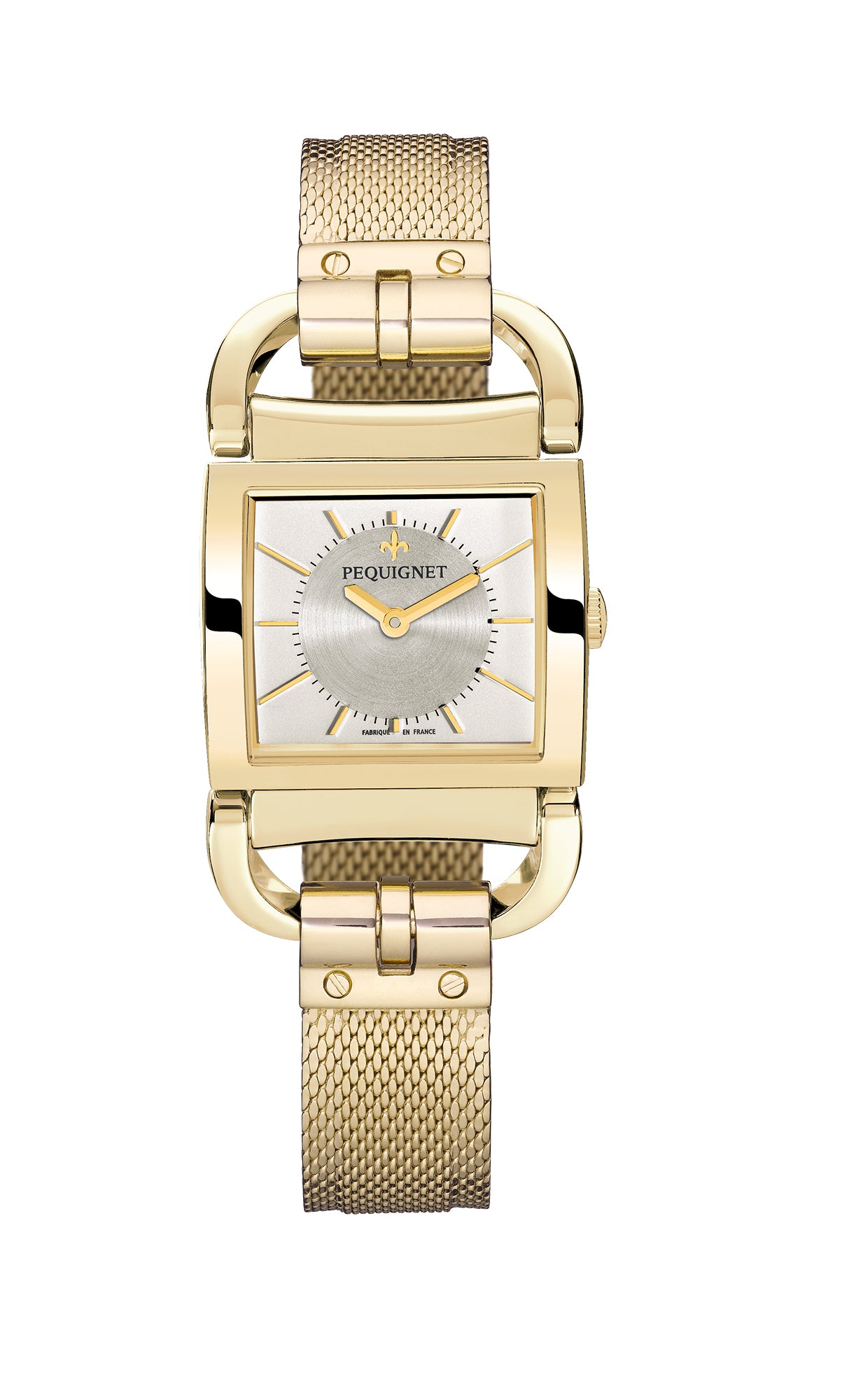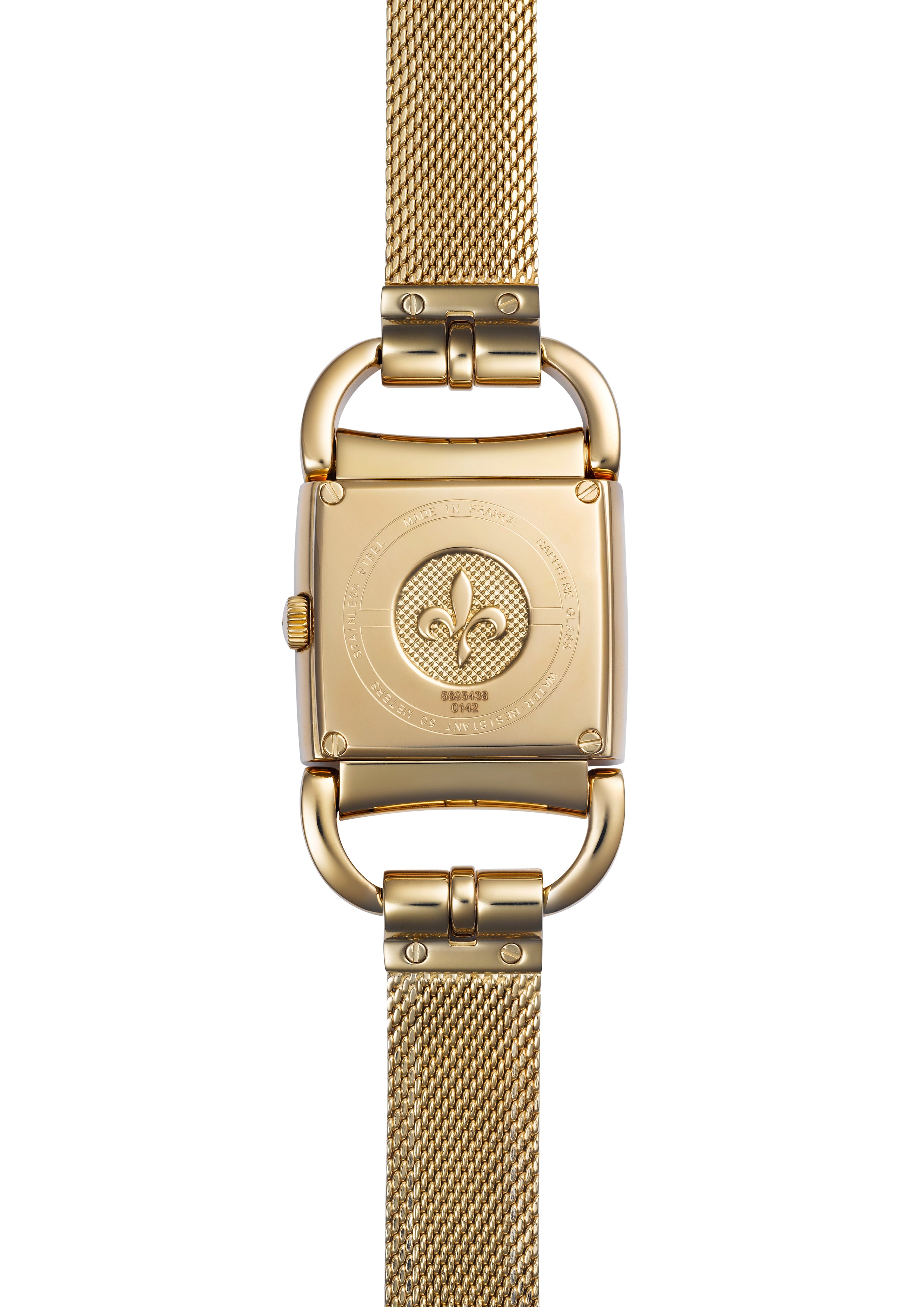 Equus Attelage Watch
Irresistibly elegant, this model from the Equus Attelage collection, equipped with a Swiss ETA quartz movement, is a real watchmaker's gem. Designed to dress the... See more
Color:
Light brown with ecru stitchings
Secure payment
Free delivery and returns
Warranty up to 5 years

Made in France
Irresistibly elegant, this model from the Equus Attelage collection, equipped with a Swiss ETA quartz movement, is a real watchmaker's gem.
Designed to dress the wrists of the most demanding women, this watch is distinguished by its sophisticated look that subtly combines geometric shapes. Its sunburst silver dial, underlined by its yellow gold-plated rectangular case, creates a timeless luminous effect, always accompanied by an interchangeable strap.
Directly inspired by the equestrian world, the Equus Attelage watch is a strong and elegant nod to horse harnessing, perhaps Emile Pequignet's greatest passion. The topstitched leathers are reminiscent of the bridle uprights on the harness of harnessed horses and the hooks are inspired by the stirrups on the saddle of mounted horses. Thanks to an exclusive system involving these removable stirrups, the Equus Attelage collection offers a multitude of interchangeable straps to match according to your wishes.
Combining strength and elegance, in the image of "man's noblest conquest", this collection has been designed for women wishing to own a discreet, elegant watch with an indisputable personality.
Case
2N 10µ plated yellow gold
Details of the dial
Silvered sunray with 2N index
Details of the movement
Quartz Swiss Made ETA 901.001
Case thickness (in mm)
6.65
Back of case
Held by 4 steel screws with Fleur-de-Lys logo and embossed Clou de Paris decoration
Dimensions (case diameter in mm)
21x25
Case material
2N 10µ plated yellow gold
For your peace of mind, Pequignet watches are guaranteed for 3 or 5 years from the date of purchase: 5 years for models equipped with a Pequignet movement (Royale collection, Attitude, Extrême 300, Concorde) and 3 years for other automatic, manual or quartz models.
If you encounter a problem with your watch during the warranty period, you may count on our customer service and on our expert watchmakers to resolve the problem at no cost to you. This warranty applies to all the watches and covers all manufacturing defects in normal conditions of use. This warranty is effective only if the watch returned is accompanied by the warranty certificate, duly dated, signed and bearing the stamp of the retailer authorised to represent Pequignet. Each watch arriving at the Manufacture shall be the subject of an examination undertaken by our master watchmaker, in order to certify its condition.
THE EQUUS COLLECTION
Directly inspired by Emile Pequignet's passion for horses, Equus watches are the watchmaker's tribute to "the noblest conquest of Man". The essence of an Equus timepiece - whether Origine or Attelage - is embodied in the two fine steel horns that support its saddle-stitched leather strap. Equus watches take us on a horology getaway.

Because wasting time is never wasted time.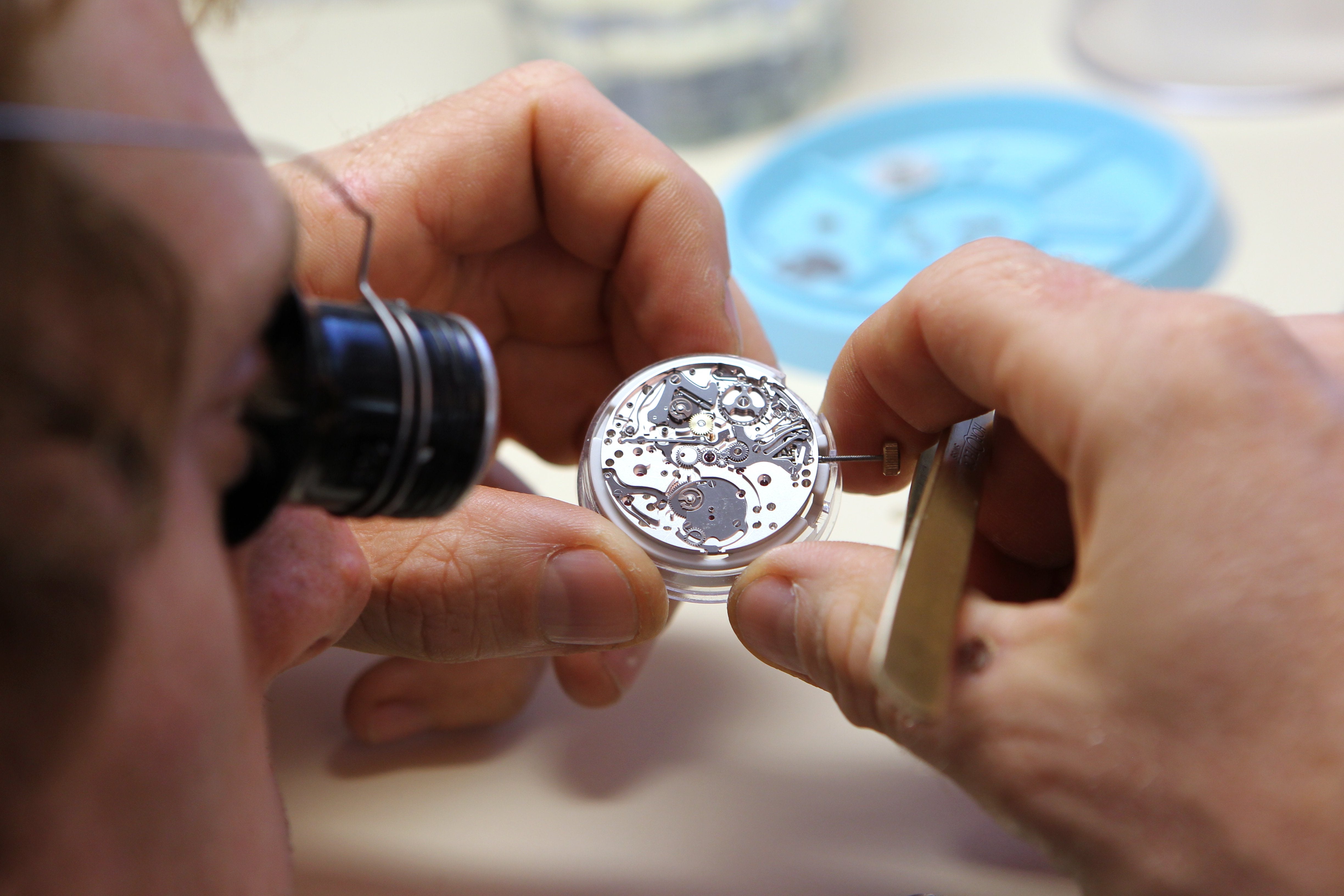 PEQUIGNET: THE ART OF TIME
A unique French Haute Horlogerie manufacturer, Pequignet has been designing and making watches for free-minded and independent spirits for 50 years.
It embodies a French vision of time, the one we dare to offer or the one we free ourselves from.
Wearing a Pequignet watch means asserting your freedom and proudly displaying the heritage and know-how of a Jura-based manufacturer that designs exceptional calibres.
Pequignet has its own special way of offering access to uninhibited Haute Horlogerie.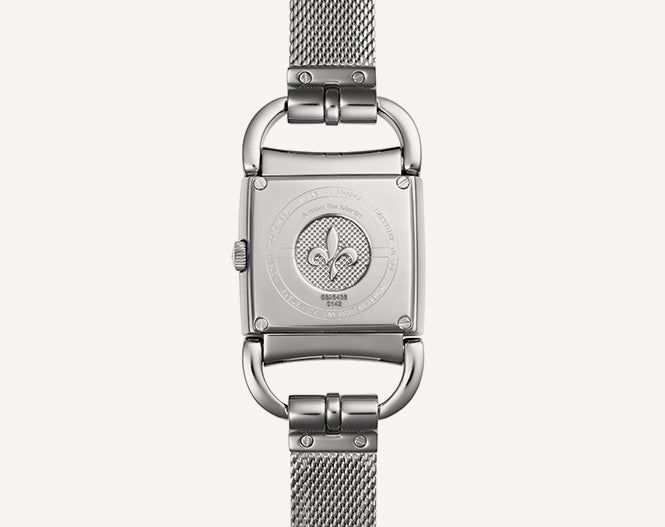 Typographie Arial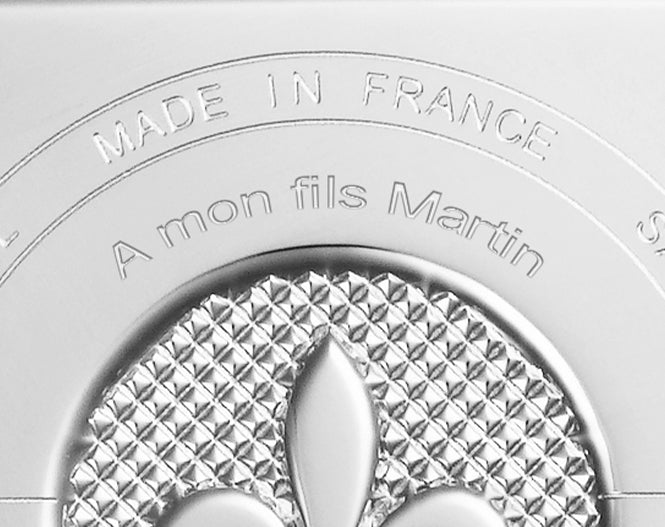 Typographie Arial (zoom)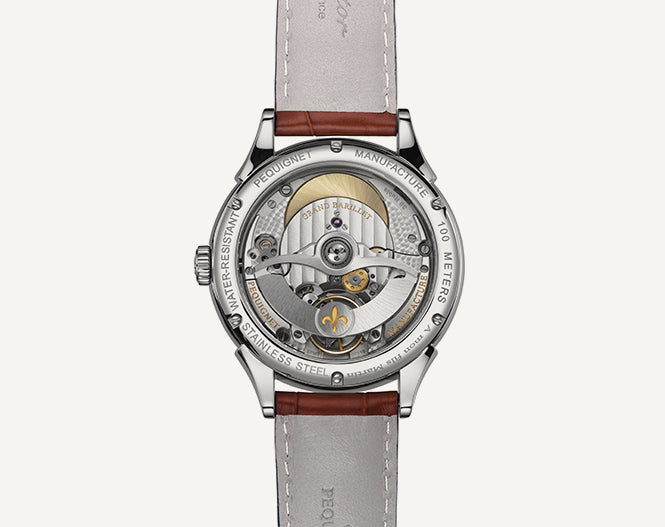 Typographie Batang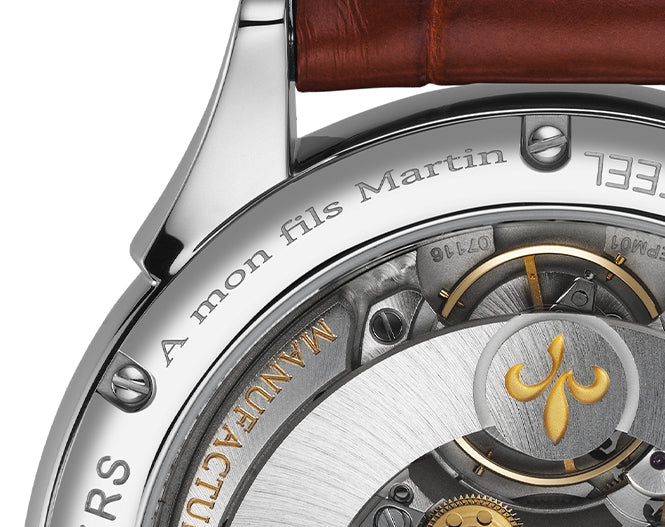 Typographie Batang (zoom)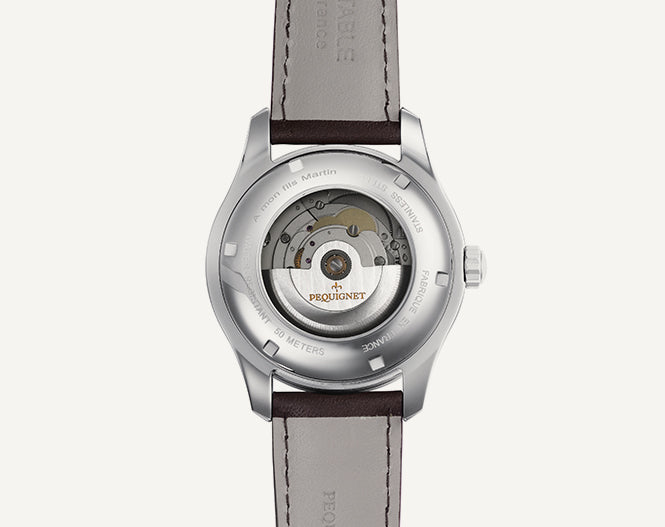 Typographie Cordia New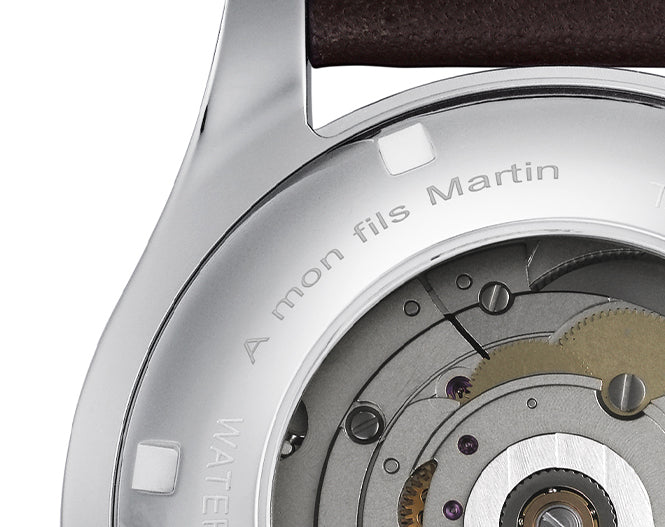 Typographie Cordia New (zoom)